www.eoinyoung.com
It is with great sadness we have to report that Eoin passed away in his home town of Christchurch, New Zealand on 5th September 2014. So many of us owe Eoin a great deal. Without his affability and generosity of spirit many of us would probably never have met -or had so many good lunches.The piece below is from Sandra Young, which she read at his funeral:
Hard to believe that Eoin and I had known each other for nearly 50 years, and as he said recently "to think we are still speaking!" For 27 of
those years we were happily married and when Eoin wasn't travelling the world we enjoyed a great family life with our beautiful late daughter
Selina. After all those years Eoin decided to try pastures new, but I am glad to say that by the time he had come to live back in New Zealand
we had become friends again and were able to enjoy time together with Selina and our grandson Alfie. Our lives changed for ever when
Selina died, and Eoin could never come to terms with the death of the daughter he so adored. The legacy she left is our wonderful grandson
Alfie, Eoin was a very proud Grandad, and when I was home in England kept me up to date with all Alfie's activities.
I shan't expect Eoin to come walking through my kitchen door in England, but I shall miss his cheery face greeting me at the airport when I return
each year, and our long lunches together. I shall miss having you in my life Eoin, but count myself lucky to have so many happy memories.

Sandra
Thanks to all the people who have been in touch with kind words and affectionate memories of Eoin. Everyone has their favourite story and I will, of course forward messages to Sandra and Alfie. There is a particularly nice tribute by Maurice Hamilton on the McLaren website.
Eoin retired from the everyday running of the website some years ago, living in New Zealand and continuing to write articles and attend motorsport events while I took on the majority of the stock which is based in the UK. He continued to take an interest, acting as a consultant and finding his own items of treasure for me to list right up until being taken ill this year. (I can hear him now telling me to raise the price on his anything signed by him as its rarity has just increased!) He was pleased that the book and memorabilia business continued and was more than happy for the website to continue to bear his name. While things will never be the same without him, we are still in business and buying and selling new stock all the time on the catalogue page.. As one of the first people to deal in motoring books, it's fitting that Eoin's name is still at the top of this site.
The columns Eoin wrote for this site are still available to read. See the home page.
Peter Renn. webmaster
It's still business as usual however, with lots of new items on the web site catalogue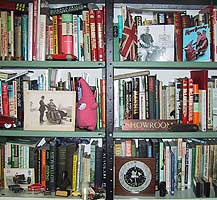 The general catalogue is being added to all the time as more treasures and oddities appear. click here or the catalogue button on the left to see the latest items.
Articles by Eoin:
1. SCRAPBOOKS and THE EDDIE HALL PHOTO ALBUM MYSTERY
2. GOODWOOD CIRCUIT REVIVAL 2001
3. SPRING RACING IN NEW ZEALAND
5. "CHASING THE TITLE"- A 'must-read' book...
8. NEW BOOKS, PRESCOTT AND GOODWOOD 2002
10. CLASSIC RACERS, FORZA AMON! and COLIN CHAPMAN
11. MY NEW BOOK... & BERNIE'S NEW BOOK
12. SELLING AT GOODWOOD AND BUYING AT BEAULIEU
13. TARGA NEW ZEALAND, BRABHAM ON SCHUMACHER, AMON ON CLARK
15. PUSHING BUTTONS; F1 DRIVER SHUFFLES
17. EXCITING COLLECTION OF PHOTOGRAPHS IN WARSAW
18. BERTIE WOOSTER'S SUNBEAM GT FOR SALE

19. MCLAREN MEMORIES
20. "FORZA AMON" SIGNED COLLECTOR'S EDITION
21. DURANT RECORD BREAKING RUN
25. SCRIBE'S WALL OF FAME

26. STIRLING OR TAZIO TOPS?
29. FRANK GARDER LIVE ON STAGE
---
Eoin Young is a New Zealander who left a bank job to join Bruce McLaren and help set up his racing team. More or less. He arrived in the UK in 1961 as a freelance journalist, covered the Formula Junior season with Denny Hulme, joined McLaren in 1962. Founder director of team. Established Motormedia in 1976. Started weekly "Autocar" diary page in 1967 -- it ran until 1998. Covered CanAm, Indy and GP series. In 1979 established as a dealer in rare motoring and motor racing books and ephemera.. Autobiography volumes: "It Beats Working" and "It Still Beats Working" published in 1996. and 2003 respectively He writes regular columns for Cars for the Connoisseur, Pitpass.com and others. After more than three decades based in the UK he has now returned to his native New Zealand but the website collection still runs with much of the stock being in the UK.

The stock of Motor racing books and ephemera is constantly changing. Click here to view the current catalogue.