www.eoinyoung.com


Eoin Young's Collector's Column no. 8


New Books
The Vintage Sports Car Club's hillclimb at Prescott is all about adventures in old cars and with the actual hill being owned by the Bugatti Owners' Club there was a variety of Bugs with their distinctive horseshoe-shaped radiators.
Prescott is a pleasant reminder that there is motor racing and enthusiasm outside Formula 1, at a more gentle pace when the car park is an apple orchard with not a square inch of security fencing to keep the punters from the machinery. The place oozes vintage quality and crankiness that often goes hand in hand with pedigree. One of my favourites was the supercharged ex-factory Austin Seven single-seater as raced at Brooklands by Kaye Petre. In fact the lovely Kaye suffered a huge accident on the banking in this little Austin during practice for the 1937 BRDC 500 when Reg Parnell carved her up in his MG. She was unconscious for days after, and Parnell had his racing licence lifted. She made a complete recovery but never raced again.
Herb Gilroy, who raced a variety of cars including the Ulster Austin that Bruce McLaren first raced, told me that he was offered a very cheap deal on one of these factory-built single-seater Austin Seven racers, left sitting outside under a tarpaulin, unloved at The Austin factory. The little 750cc engine is angled so that the driver sits low beside the drive-shaft - the supercharger is nearly as big as the engine!
Bumped into Kiwi ex-pat, Allan Winn, who campaigns his venerable 1929 Bentley 3-litre when he isn't being publisher of Flight International.
David Thirlby, the Woosterish former editor of the VSCC Bulletin and author of the first and best history of Frazer-Nash, was in his usual splendid form on the edge of a soothing tincture of lunchtime red at Ted Walker's photographic archive mobile emporium, and he was telling me that he is working on a book that started out to be the history of the Invicta car company. Now he is steering a different course and the book will be a biography of the colourful Sir Noel Macklin who built the Invicta cars in the 1920s and 1930s and high-performance Motor Torpedo Boats (MTBs) during the war. Macklin's sister-in-law, Violet Cordery, made history when she drove an Invicta round the world in 1929 at a stirring average of 24.6 mph. Mixing further into motor racing, Violet married John Hindmarsh, who won Le Mans for Lagonda in 1935, and one of their daughters, Sue, would marry Roy Salvadori who won Le Mans for Aston Martin in 1959. Sir Noel's son, Lance, started racing an Invicta and graduated to HWM where he was a team-mate of Stirling Moss and he raced Stirling's 250F Maserati from time to time when Stirling was otherwise engaged. It was Macklin's Austin-Healey that swerved into the path of Levegh's Mercedes at Le Mans in 1955, inadvertently triggering the biggest fatal crash in motor racing history when Levegh and over 80 spectators were killed. Macklin maintained that he had to swerve to avoid Mike Hawthorn's D-Type making a fast pit-stop. I was always under the impression that Levegh had swerved to dodge the Healey but in fact the Mercedes hit the tail of the Healey hard and launched itself into the air. Photographs in a Le Mans newspaper that weekend show the back end of the Macklin's car was destroyed. So Thirlby's Macklin book will be a good deal rounder than just a dry history of Invicta. Thirlby once took me round Donington in his Chain-Gang 'Nash", telling me that it had a three-speed gearbox 'which guarantees you are in the wrong gear for every corner.'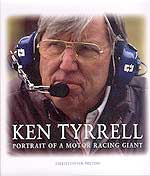 Because Chris Hilton always wore a jacket and tie in Grand Prix pressrooms and paddocks when the rest of us were less sartorially svelte, he was always known as "Jacket". And still is. Manic to a fault but enormously enthusiastic and churning out books on racing drivers. His latest tome is a biography of the late great Ken Tyrrell. Next on the Hilton editorial list is a book on Tazio Nuvolari.
It was the doughty Tyrrell who put together a dream team around Jackie Stewart and they won three world championships before JYS hung up his helmet at the end of the 1973 season. That final fatal race at Watkins Glen would have been Jackie's 100th GP; as things turned out it was his team-mate, Francois Cevert's last. He was killed when his Tyrrell crashed in practice and the team withdrew. Although Ken continued into the 1990s it would never be the same again. The plan had been for the dashing Cevert to take over as team leader, but with Stewart retired and Cevert dead, "Uncle Ken" had to start all over again with Jody Scheckter and Patrick Depailler.
I worked with Elf on the PR side in the 1970s after Jackie retired and I have to say that I was never aware of the under-current between Ken and the drivers but Hilton quotes Depailler from his 1978 biography in French (it was never translated into English) saying "It was Stewart more than Tyrrell who must be credited with winning the title in 1973. I know this, because I drove that car in 1974 and I know that it was nothing exceptional. The 1974 season marked the beginning of Ferrari's supremacy and from that moment on all the teams had to redouble their efforts on the technical side to succeed.
'At first Ken didn't understand. I am sure that Stewart would not have been World Champion in 1974 with the material we had, Jody and I. It had become impossible - but Ken still believed it. Then, instead of taking us into his confidence step by step, he psychologically disarmed us by knocking us, by leading us a hard life. He believed it was character forming. In reality it complicated our relationships. It was me who suffered the most because I had difficulty expressing myself in English, and also because my timidity stopped me from taking a lead. It's why I was behind compared to Scheckter - but Jody had a hard time, too, and I am sure that it's because he took this badly that he decided to go."
Hilton's book is a splendid reminder of the man I knew so well and I await with interest the longer and more comprehensive biography coming later this year from the equally erudite pen of Maurice Hamilton who has the advantage - or disadvantage perhaps ñ of being able to read Hilton's Tyrrell book while in the middle of writing his own.
Palawan Press has created a high-dollar niche in the motoring book market and the latest luxury tome is "Dick & George. The Seaman-Monkhouse Letters 1936-1939" by Doug Nye. The letters are quaint and give an insight into the relationship between the top British driver signed by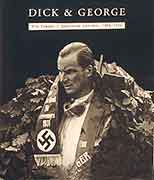 Mercedes-Benz, and top British photographer, George Monkhouse. The book also quotes from a bitter memoir that Seaman's mother wrote. Oddly enough, I owned this typescript manuscript which was never published but I have no idea where I bought it or to whom I sold it!
The Seaman saga reads like a thriller. The British driver who drove for the Germans and won their Grand Prix as an unpleasant surprise for A. Hitler. Then he marries the daughter of the boss of BMW and his mama is most definitely not amused at this arrangement. Won't speak to the new bride. The handsome Brit stands to come into a trust fund worth over £10-million in today's money when he turned 27. He was killed at Spa aged 26.
Previously the only Seaman book had been a careful period biography by Prince Chula. Nye goes into the Seaman story with rather more gusto. Odd items come out of the letters that embroider what life must have been like on the racing scene 70 years ago. Consider these unconnected snippets: Dr Porsche was interested in selling Seaman a one-year-old Auto Union V16 in 1936. He also offered to build the young British speed ace a Land Speed Record car to be powered by two Napier Dagger air-cooled opposed-piston aero engines mounted on their sides to reduce profile height. His target speed was 375mph. Napier told him the motors would have to be expensively re-designed if they were to work on their side. Project cancelled. Then we have Seaman writing to Monkhouse in 1937 asking for details of the mandatory Brooklands silencer because he had talked Neubauer into providing a W125 GP car to attack the Outer Circuit record. "Keep this quiet," he added at the foot of the telegram. He noted in one 1937 letter that a spare car for him was being brought from Stuttgart "in the new supercharged racing lorry, which does 120kph with another lorry following in case it broke down." Or the weekend of the 1938 French Grand Prix at Reims when he was on the subs bench. "Attended a luncheon given by Pommerys with champagne on draft from a tap coming through the table in front of each guest. Neubauer wished he'd taken a rubber tube." Another party after Mercedes had won the 1939 1.5-litre Tripoli Grand Prix: "It was one of those genuine Mercedes lunches and lasted from 12.30 to 5pm."
Nye's explanatory notes as an appendix are as fascinating as the main body of the book. Did you know that Enzo Ferrari won the first race on the 16-mile Pescara road circuit in 1924 and that part of his prize was the title Commendatore? I didn't either. Denny Hulme won the Formula Junior race there in 1960.
Mention of French champion Raymond Sommer, and Nye writes that he was killed at Cadours when he crashed in a Cooper 1100. "Ever keen to work on his own cars he had reputedly straightened a previously bent steering arm, and the car overturned when the arm snapped under load. The great Sommer was the first Cooper fatality. In fact the Fiat-derived Cooper steering layout demanded shaped steering arms bent in manufacture at Surbiton. An embarrassing secret protected throughout John Cooper's life was that his father, Charles, had personally formed the faulty arm on the Sommer car, and in his haste to shape it had used excessive heat, and embrittled the material"
The cheapest edition is £135 but think of it as an investment. Only 1500 numbered copies have been published, with the first 50 leather bound in a slipcase and so expensive that they wouldn't put the price on the order form. Refer to publisher, it says. Oh. Right!

To Goodwood swiftly by red road test Alfa Romeo 147 Twin Spark, the swoopy two-door with the retro rad look. How do they get the Italian Racing Red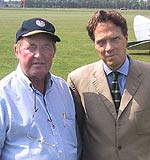 so right with this car? It really looks the business. How many wrong British Racing Green attempts have you seen? This Alfa red is spot on. The car drives so well that we weren't ear-'oling down from Bookham to Goodwood but we were actually early when I'd timed arrival for the Circuit Revival test session to be a bit late. You can only do so much heel-kicking. I think I have a very fine line between relaxed and bored.
Perry McCarthy (who has just written his autobiography 'Flat Out Flat Broke') and ITV's Tony Jardine turned up to have their snaps taken with an A35 and a Farina A40 in front of a splendid red period Tiger Moth flying machine. Lord March was also on hand, enthusing about the on-going success of his two events. There was a measure of mumbling that the Circuit Revival this year clashes with the Beaulieu Autojumble weekend and was this a clash of Lord Ms (Montagu and March) but I think it was more a point of his Lord March avoiding a clash with a Grand Prix. I've heard tell that Bernie and Charles March had a chat about the calendar and that Bernie was heard to say that it was soon going to reach the stage when he would be clearing the Grand Prix calendar dates with Charlie!
It will be a big book weekend at Goodwood on Goodwood 6-7-8 what with Murray Walker doing his first circuit launch of his memoirs 'Unless I'm Very Much Mistaken' (it will appear in London during the week) and Muzzah will be signing in the HarperCollins marquee. Perry McCarthy will be signing his book at Chaters marquee during the weekend.

Eoin Young.
To read previous columns click on the links below:
1. SCRAPBOOKS and THE EDDIE HALL PHOTO ALBUM MYSTERY
2. GOODWOOD CIRCUIT REVIVAL 2001
3. SPRING RACING IN NEW ZEALAND
5. "CHASING THE TITLE"- A 'must-read' book...
8. NEW BOOKS, PRESCOTT AND GOODWOOD 2002
10. CLASSIC RACERS, FORZA AMON! and COLIN CHAPMAN
11. MY NEW BOOK... & BERNIE'S NEW BOOK
12. SELLING AT GOODWOOD AND BUYING AT BEAULIEU
13. TARGA NEW ZEALAND, BRABHAM ON SCHUMACHER, AMON ON CLARK
15. PUSHING BUTTONS; F1 DRIVER SHUFFLES
17. EXCITING COLLECTION OF PHOTOGRAPHS IN WARSAW
20. "FORZA AMON" COLLECTOR'S EDITION
21. DURANT RECORD BREAKING RUN
29. FRANK GARDNER LIVE ON STAGE!
---
Eoin Young is a New Zealander who left a bank job to join Bruce McLaren and help set up his racing team. More or less. He arrived in the UK in 1961 as a freelance journalist, covered the Formula Junior season with Denny Hulme, joined McLaren in 1962. Founder director of team. Established Motormedia 1966. Started weekly "Autocar" diary page in 1967 -- it ran until 1998. Covered CanAm, Indy and GP series. In 1979 established as a dealer in rare motoring and motor racing books and ephemera. Still trading with regular lists. Autobiography "It Beats Working" published in 1996. with its sequel "It Still beats Working" in 2003. After more than three decades based in the UK he has now returned to his native New Zealand.

The stock of Motor racing books and ephemera is constantly changing. Click here to view the current catalogue.