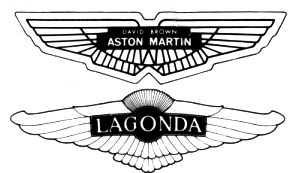 www.eoinyoung.com
Aston Martin & Lagonda Items For collectors of Aston Martin & Lagonda books and automobilia- all the relevant catalogue items are collected here.
PHOTOGRAPHS: I have a large archive collection of photographs, far too many to list. Contact me if you are looking for something specific.
Please note Item number and title (in caps) together with Visa/Mastercard. Click here to order.




Masterd/Visa
sa

---
2121. ASTON MARTIN DB4 & DB4GT RECTIFICATION AND RACING. Guy Loveridge. New publication based on the diaries and home movies of Des O'Dell , chief rectification and racing engineer for Aston Martin. DVD has some terrific footage mainly from 1961 including testing production Astons on the roads around Newport Pagnell, the Aston single seat Grand Prix car testing at Brands Hatch, racing at Le Mans (including a great sequence of a pre-race practice pitstop on a French rural road), Goodwood Tourist Trophy, Monza, Montlhery and touring Europe with the Zagato bodied DB4 GTs. before returning to the factory rectification workshop where we see Des and the mechanics working on a variety of DB4 and GT cars. The 1962 Le Mans is also filmed with some great pit footage including a DB4GT arriving backwards, having spun on its own oil! A bonus feature on the DVD is a lovely little film of the 1963 Wiscombe Park hillclimb. The book itself is full of anecdotes from Des O'Dell (He'd started working on a memoir before he died and Guy Loveridge has had exclusive access to this) and pictures from the O'Dell archives. Hardback book with inset DVD. 6in x 8.5in pp.48 Limited edition of 1100 copies. £35 inc. p&p
2063. ASTON MARTIN DBS. Terrific large-scale model of the new Aston Martin DBS which is beautifully detailed enough for static display. - This one however has the bonus of being radio-controlled. Produced as part of the publicity for the James Bond film "Casino Royale" (There's a movie logo sticker on the controller) the model sadly has no guns or other gadgets but it is very fast -as it should be, of course. 11in long. £22

1851. ASTON MARTINS AT LE MANS

. Promo photograph of the Gulf Prodrive Aston Martin team cars on the start/finish straight at Le Mans in 2009. Large format print/poster. 18in 12.5in overall (image is approx. 11 x 11.5in.) in immaculate condition. Supplied rolled in a tube. £22
1653. 'ASTON' The Journal of the Aston Martin Heritage Trust. Vol. 1 No.1. The inauguaral issue of this superb publication which is highly collectable. It feels more like a large format book. Articles include The Maggis and the Mille Miglia, Stirling Moss, Carroll Shelby, BRM, Chitty Bang Bang, Lady drivers, Rudyard Kipling etc. etc. If you're wondering where the cars are on the (rather dull) cover, they are on the back! No date but I think it's from about 1996. Excellent condition. 8in x 10.5in pp.88 £25
1535. ASTON MARTIN OWNERS CLUB St. JOHN HORSFALL RACE MEETING. Special commemorative poster for the 50th anniversary of this event in 1999. Almost all the significant Aston models are depicted in racing trim. Glossy poster in very good condition 35in x 23.5in £25
While regularly updated, this list may not include the very latest items in the catalogue Note that new items are always being added at the top of the first page. Click here to return to the latest items







To Place an Order note the Item number and basic description then click on the Order button below: