www.eoinyoung.com
Eoin Young's Collector's Column no. 23
Mintex Man - Relined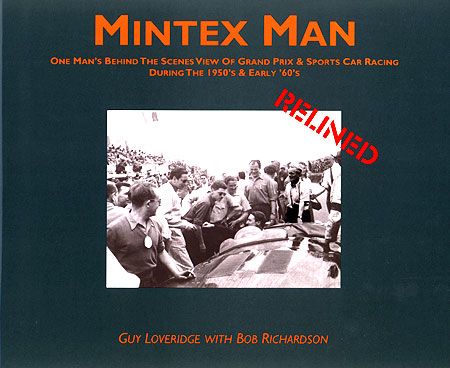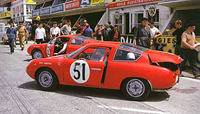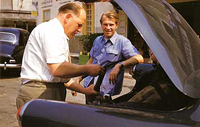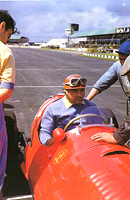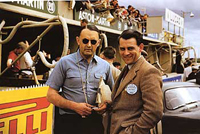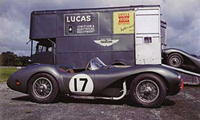 Back in 1992 Guy Loveridge got chatting to a stallholder at an autojumble on the subject of Mike Hawthorn. The stallholder, Bob Richardson said he had a 35mm slide of Mike at home in his cellar. Guy arranged to go and see it and was stunned to find a previously unseen picture of Hawthorn arm in arm with Louis Rosier at the 1953 British Grand Prix, Silverstone. Asked if he had any more, Bob said yes- "about 150" taken by his old friend Lionel Clegg of Mintex. "I think there's a book in this" said Guy. The book appeared in 2001 as "Mintex Man", a collection of the best images taken by Lionel Clegg as he travelled the race circuits of Europe in his work with the Mintex brake company. A keen and skilled photographer, he documented every aspect of the events he attended, his behind-the scenes views being unique as he knew all the drivers, team owners and personnel professionally. The book was a great success; so much so that a new edition, inevitably called "Mintex Man- Relined" was published in 2006. Enlarged with many extra photographs which Guy says " I don't know why we left out the first time" the new edition has had the photographs all re-scanned to take advantage of the advances in scanning technology in the last five years. The resulting images are sparkling clear. Hard to believe they were taken forty of fifty years ago.. Highly recommended!
"Mintex Man- Relined" is available from Douglas Loveridge Publications, Moss View, 85 Warburton, Emley, Yorkshire HD8 9QP UK. or email Gjcl69@aol.com. Price is £27.50 + £3.50 p&p.
Barley Mow Down Under
It was just like the Barley Mow in West Horsley, lunching at a friendly pub with the good old boys from the good old days of motor racing. It was a generation thing. We enjoyed the company and the stories and they liked keeping up with the latest Grand Prix gossip. Sir Jack Brabham is 80 next Tuesday (April 2) and his birthday bash in Sydney is bringing his old racing mates out from Blighty. Tony and Pina Brooks visited New Zealand for the first time on their way to the Brabham birthday and had lunch with Chris and Tish Amon on the way. They also had lunch at my replacement for the Barley Mow – The Brewer's Arms at Merivale in Christchurch – with a group of my motor racing mates who couldn't believe that they were in the company of a quiet man, rated by Stirling Moss as one of the top track men of his time. Michael Clark flew down from Auckland for the lunch, said it was the most expensive meal he'd ever had…and thought it was well worth every penny! Gavin Bain brought along his D-Type and Tony climbed aboard for the traditional after-lunch snap. Ironic as it happened, because Tony had only ever been in a D-Type once before and that was a private test at Oulton Park. He had always been an Aston man in sports cars.
Eoin Young
To read previous columns click on the links below:
1. SCRAPBOOKS and THE EDDIE HALL PHOTO ALBUM MYSTERY
2. GOODWOOD CIRCUIT REVIVAL 2001
3. SPRING RACING IN NEW ZEALAND
5. "CHASING THE TITLE"- A 'must-read' book...
8. NEW BOOKS, PRESCOTT AND GOODWOOD 2002
10. CLASSIC RACERS, FORZA AMON! and COLIN CHAPMAN
11. MY NEW BOOK... & BERNIE'S NEW BOOK
12. SELLING AT GOODWOOD AND BUYING AT BEAULIEU
13. TARGA NEW ZEALAND, BRABHAM ON SCHUMACHER, AMON ON CLARK
15. PUSHING BUTTONS; F1 DRIVER SHUFFLES
17. EXCITING COLLECTION OF PHOTOGRAPHS IN WARSAW
20. "FORZA AMON" COLLECTOR'S EDITION
21. DURANT RECORD BREAKING RUN
---
Eoin Young is a New Zealander who left a bank job to join Bruce McLaren and help set up his racing team. More or less. He arrived in the UK in 1961 as a freelance journalist, covered the Formula Junior season with Denny Hulme, joined McLaren in 1962. Founder director of team. Established Motormedia 1966. Started weekly "Autocar" diary page in 1967 -- it ran until 1998. Covered CanAm, Indy and GP series. In 1979 established as a dealer in rare motoring and motor racing books and ephemera. Still trading with regular lists. Autobiography "It Beats Working" published in 1996. with its sequel "It Still beats Working" in 2003. After more than three decades based in the UK he has now returned to his native New Zealand.

The stock of Motor racing books and ephemera is constantly changing. Click here to view the current catalogue.