www.eoinyoung.com
Eoin Young's Collector's Column no. 7

Old Car Imaginings

The splendid photograph of the H.M. Bentley 6 -litre two-seater with its slanted pair of spares at the tail and the big Brooklands silencers came with a scrapbook page of old car ads from Spencer Elton's stand at VSCC Donington. There were two photographs of similar H.M. Bentley cars that really looked the business. Both had a pair of vertical rear-mounted spare wheels with the slab tank between the wheels and the cockpit. As understand it from one of the older Bentley fellers at Donington, H.M. Bentley (W.O.'s brother) ran the previously owned sales department in the 1930s when RR had taken over the new-car side of Bentley and they built what I imagine were the first of the dreaded 'replicas' so despised a generation or so later by those who could afford the "real thing". Being a card-carrying Philistine, I think replicas are great. Also about a thousand miles closer to my wallet. We were at an earlier Donington and standing on the balcony at the back of the pits. I asked my mate if he supposed the XKSS Jaguar on the other side of the paddock, was a real one or a replica. 'Definitely a replica,' he said. But how could he possibly know from this distance? 'Easy. If it was a real one it would have a security guard'.
But I digress. As I understand it, H.M. Bentley & Partners were one of the first into the replica market, buying up those stately only Bentley Weymann saloons or well-used or mildly bent tourers, and converted to extremely racy two-seat sports models. "H.M." was offering a 4 -litre short chassis with a top speed of 105mph for £425 or a similarly-styled 90mph 3-litre for £295, both of which look like something of a spare change bargain in modern terms.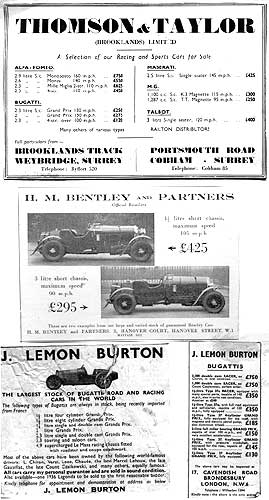 Jack Lemon Burton's ad boasted that he had "The largest stock of Bugatti road and racing cars in the world - the following types of Bugatti are always in stock being recently imported from France. Most of the cars have bee owned by the following world-famous drivers: L. Chiron, Varzi, Leoz, Chaude, the late Marcel Lehoux, the late Gaupillat, the late Count Czaikowski and many others, equally famous." And also, presumably, equally "late" making one wonder whether they went to meet their maker in the car Jack was offering. He had three 1 -litre Bugattis - a 4cyl GP, an 8cyl GP and your choice of single- or double-cam GPs. Plus a 2-litre GP, a choice of 2.3 single or double cam GPs, 3.3-litre touring and saloon cars and a 4.9 supercharged Le Mans racing chassis fitted with roadster and coupe bodywork. Sadly no prices listed.
At Brooklands, however, the legendary Thomson (no "p") and Taylor had a 2.3 supercharged 130mph Bugatti at £250 and they could do a family deal of Alfa Romeos, with a 2.9-litre supercharged monoposto (a P3, presumably) which was quoted at 160mph and was yours for only £750, a 140mph Monza at £550 or a 2.3 110mph Mille Miglia 2-seater at £625. Or a 2.5-litre blown single-seater 145mph Maserati for £425. Or a supercharged 1100cc K3 115mph MG Magnette at 300mph.
Just a fast trip down memory lane. Excuse me for the misty eyes!
Eoin Young.
To read previous columns click on the links below:
1. SCRAPBOOKS and THE EDDIE HALL PHOTO ALBUM MYSTERY
2. GOODWOOD CIRCUIT REVIVAL 2001
3. SPRING RACING IN NEW ZEALAND
5. "CHASING THE TITLE"- A 'must-read' book...
8. NEW BOOKS, PRESCOTT AND GOODWOOD 2002
10. CLASSIC RACERS, FORZA AMON! and COLIN CHAPMAN
11. MY NEW BOOK... & BERNIE'S NEW BOOK
12. SELLING AT GOODWOOD AND BUYING AT BEAULIEU
13. TARGA NEW ZEALAND, BRABHAM ON SCHUMACHER, AMON ON CLARK
15. PUSHING BUTTONS; F1 DRIVER SHUFFLES
17. EXCITING COLLECTION OF PHOTOGRAPHS IN WARSAW
---
Eoin Young is a New Zealander who left a bank job to join Bruce McLaren and help set up his racing team. More or less. He arrived in the UK in 1961 as a freelance journalist, covered the Formula Junior season with Denny Hulme, joined McLaren in 1962. Founder director of team. Established Motormedia 1966. Started weekly "Autocar" diary page in 1967 -- it ran until 1998. Covered CanAm, Indy and GP series. In 1979 established as a dealer in rare motoring and motor racing books and ephemera. Still trading with regular lists. Autobiography "It Beats Working" published in 1996. with its sequel "It Still beats Working" in 2003. He lives in tiny low-beam period cottage in Bookham, Surrey. Drives VW Golf VR6.

The stock of Motor racing books and ephemera is constantly changing. Click here to view the current catalogue.