www.eoinyoung.com
Eoin Young's Collector's Column no. 18
Eoin Young's Diary:
Bertie Wooster's GT Sunbeam for Sale
Wallace McNair, the man who has recreated the splendid old Darracq Grand Prix car, bits of which raced in the very first Grand Prix at Le Mans in 1906, has also worked his magic on a unique 1926 5.4-litre pushrod ohv straight-eight Sunbeam that enjoys all the size and style of a Bugatti Royale for rather more sensible money.
The car started life as a 35hp limousine and was used by Lord Galway, the Governor General of New Zealand from 1935 to 1940. It became derelict in storage during the war years in Wellington and in 1946 it was bought, stripped and converted to a sports racing car with a shortened chassis. In 1989 the car was bought by Anne Thomson and her partner, Wallace McNair started a major restoration returning all the mechanical specifications to their original form.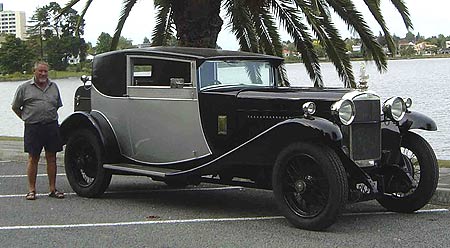 McNair has a fine eye for continental lines and it helps that he is a master craftsman in coachwork and mechanical refinements. "It was decided to create an appropriate piece of Automobile Art on the chassis," says McNair. "The resulting bodywork has a French influence of a style used by Bugatti, Delage and Hispano."
It helps to know that a Type 44 Bugatti is having a ground-up restoration in his specialist workshop above McNair's motorhouse in Hamilton, New Zealand. His restorations have included the 1901 Lohner Porsche and the 1923 Indianapolis Mercedes for a German client. "In effect the Sunbeam is a stylised 19th century horse coach mounted on a superb quality chassis." It is also one of only two of these big Sunbeams that have survived. The other is in the Orkneys…
"All the hardware and jewellery is period quality, complete with a Lalique cockerel radiator mascot. Upholstery is an art deco tapestry with a satin headlining."
The interior is quite superb. Very Bertie Woosterish. The coupe body on the limo chassis makes for great looks. The front seats move forward to allow access to the generous pair of leather seats in the rear. A true 1920s gentleman's GT which is near enough unique and the new owner can be satisfied to know that he will never see another…
Performance matches the style. Stately with period speed. McNair has driven the length of the North Island in top gear. Pulling power is amazing. On-going projects with the Grand Prix car require a sale for this special coupe and the car is being sacrificed at £125,000.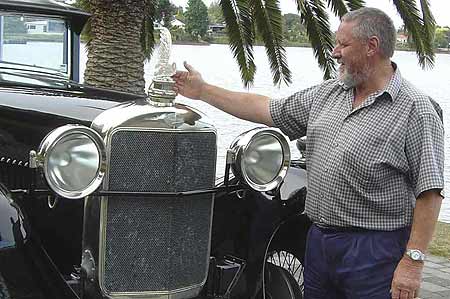 Prospective customers can contact me by email or fax and I will forward all of them to Wallace in New Zealand.
McNair has a thing about Sunbeams. His collection includes a special sports two-seater based on a 1924 24/60 fitted with a WW1 12-litre V12 Sunbeam 'Maori' aero engine. Only two of these aptly named motors (for a Kiwi collector) exist; the other is in the Science Museum in London. The gearbox is from a 1920s locomotive! A WW1 aero rev counter reads to 2,600rpm.
Then there is the splendid 1906 Darracq Grand Prix car which comes within the McNair umbrella by remembering the Sunbeam-Talbot-Darracq triumvirate. It ran in the very first 1906 Grand Prix run over two days on a long road course near Le Mans but in the hands of Louis Wagner, is was an early retirement with valve problems. He made up for it by driving this same car to win the Vanderbilt Cup on the Long Island course the following year.
Wallace is aware that vintage folk compare this car with the woodman's famous axe "But at least this axe has the original head!" The big 4-cylinder with exposed valve gear – the whole engine is exposed because there is no bonnet and never was for weight-saving – is now 14.25-litres, said to have been enlarged when Malcolm Campbell bought the car in 1910. It was his first Bluebird. One night he had been to Maeterlinck's 'Blue Bird' on stage in London and went home to paint his new car for the Brooklands race the following day. He spent much of the night 'smothering the car and himself in blue paint.' He drove it to Brooklands with the paint still wet and glistening and when he got out, so much had attached itself to his person that he looked more like a Bluebird than the car.'
The Darracq was later converted to a road car but was burned out in an accident, the motor was rescued and used in a speedboat and after WW1 a New Zealand naval officer bought the motor and bits and brought them home. Eventually the big motor was used to power a stand-by generator in a newspaper print house. It would be rescued and McNair's partner, Anne Thomson purchased the project. It is now in superb century-old form and they hope to bring the car back to Europe for the centenary of that first Grand Prix at Le Mans in 2006.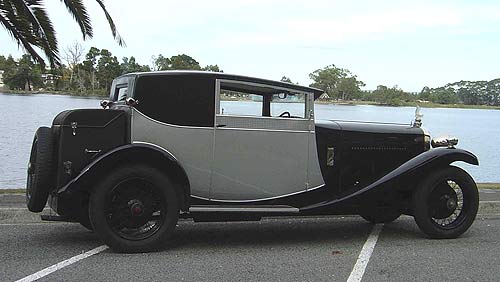 To read previous columns click on the links below:
1. SCRAPBOOKS and THE EDDIE HALL PHOTO ALBUM MYSTERY
2. GOODWOOD CIRCUIT REVIVAL 2001
3. SPRING RACING IN NEW ZEALAND
5. "CHASING THE TITLE"- A 'must-read' book...
8. NEW BOOKS, PRESCOTT AND GOODWOOD 2002
10. CLASSIC RACERS, FORZA AMON! and COLIN CHAPMAN
11. MY NEW BOOK... & BERNIE'S NEW BOOK
12. SELLING AT GOODWOOD AND BUYING AT BEAULIEU
13. TARGA NEW ZEALAND, BRABHAM ON SCHUMACHER, AMON ON CLARK
15. PUSHING BUTTONS; F1 DRIVER SHUFFLES
17. EXCITING COLLECTION OF PHOTOGRAPHS IN WARSAW
20. "FORZA AMON" COLLECTOR'S EDITION
21. DURANT RECORD BREAKING RUN
---
Eoin Young is a New Zealander who left a bank job to join Bruce McLaren and help set up his racing team. More or less. He arrived in the UK in 1961 as a freelance journalist, covered the Formula Junior season with Denny Hulme, joined McLaren in 1962. Founder director of team. Established Motormedia 1966. Started weekly "Autocar" diary page in 1967 -- it ran until 1998. Covered CanAm, Indy and GP series. In 1979 established as a dealer in rare motoring and motor racing books and ephemera. Still trading with regular lists. Autobiography "It Beats Working" published in 1996. with its sequel "It Still beats Working" in 2003. After more than three decades based in the UK he has now returned to his native New Zealand.

The stock of Motor racing books and ephemera is constantly changing. Click here to view the current catalogue.