www.eoinyoung.com
Eoin Young's Collector's Column no. 4
Tazio's Tortoise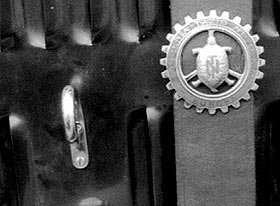 I was always under the impression that the tortoise symbol that Tazio Nuvolari used as his own, was actually the provincial badge of the Mantua part of Italy. Not so, according to British expat historic racer, Jason Wright, who lives near Lake Garda in Italy. Jason was racing an Alfa at the Goodwood Revival and he told me the Tazio tortoise story. The 1930s Italian poet Gabriel D'Annunzio had an aged tortoise as a family pet which eventually died and the distraught D'Annunzio had it stuffed and all its extremities gold-plated. It stood on his table in the dining room of his villa overlooking Lake Garda and he adopted the tortoise as his personal badge.
He was regarded as Poet Laureate in Italy and if any Italian personage performed what he regarded as a feat of note, he would award him a tortoise lapel pin. He met Nuvolari early in 1932, gave him a gold tortoise pin and commanded him to win the Targa Florio, which he duly did. From then on Nuvolari always wore a tortoise pin, then had a tortoise with his TN initials embroidered on his racing sweater and on his letterheads. When he bought a plane in 1940, he had a large tortoise badge painted on the fuselage.
D'Annunzio's home, Vittorale, overlooking Lake Garda, is now a stately home and open to the public. Among the masses of gifts and tributes on display is a badly bent steering wheel. The poet was friendly with the drivers of power boats on the lake and he proposed the idea of record runs on the lake back in the 1930s. The Coppa del Oltranza is still run with modern boats, racing flat out, one at a time. When Sir Henry Segrave was killed in an attempt on the Water Speed Record in 1930, D'Annunzio sent a poem in praise of his achievements to Lady Doris Segrave and she was so moved that she sent him the wheel from the wrecked record boat.
When Nuvolari died in 1953 he was buried wearing his racing uniform of blue trousers and yellow jersey with the tortoise motif on his breast.
Tazio used to sign autograph books for friends with a sketch of a tortoise instead of his usual signature. This was burned into my brain one long hot summer (remember when we used to have long hot summers?) and there was avery special book of autographs being offered in a Christies sale. The owner had listed all the famous racing drivers who had signed his book, starting back in the 1920s. I pored through the book, marvelling at the names and signatures but then realised that I couldn't find Nuvolari's signature - and I knew what it looked like because I had several of Tazio's original handwritten documents, signed by him. These were telegrams from his personal files, spirited out of Italy by a dealer before the Italian Heritage folk moved in and stopped auctions of racing memorabilia in Italy. Tazio sat at his desk in Mantua, wrote his message in longhand on the telegram form, signed it and took it to the telegraph office where the operator tapped it down the line, franked the original and gave it back to Tazio for his files. I also have some of his hand written expenses records!
While we're in the realms of motoring fantasy, I also have a small collection of original Ettore Bugatti pencil sketches, the sort of things he committed to paper while travelling or waiting for his meal in a restaurant. Each one is initialled and dated and the designs include boats as well as car detail.
Having digressed again, we'll get back to Tazio and his tortoise signature at Christies. I pointed out that there was no Nuvolari signature, the Christies man agreed, and when the lot was offered the lack of a Tazio moniker as pointed out. I forget what the album fetched - too much for me! - but vividly recall a completely incidental 'phone call I made that evening to a customer who had an apartment in Spain. I was telling him about this amazing autograph book and the missing Nuvolari signature and to my amazement he said "Oh that belonged to 'Mort' Goodall. He's my next door neighbour down here. I'll tell him what happened." I could hear him shouting the news round the corner of his balcony and I could also hear the bellow of rage from 'Mort'. the historic Aston Martin campaigner, who then pointed out to his neighbour that there had never been a signature - Nuvolari had drawn him a little tortoise! To my eternal credit, I never admitted that it was me who pointed out the apparent shortfall in the signature department...
I really like good signed motor racing items, or should say that I like items with good strong signatures by famous people in the motor racing world. Caveat Emptor- buyer beware. Modern racing driver signatures should be regarded as deeply suspect unless you are happy with the provenance, or unless you had the man sign your programme so you can guarantee it to be genuine. I have friends in the F1 paddock who used to sit down with a pile of driver postcards and happily forge his signature on dozens at a time. Not that the modern racer's signature is too difficult to forge. It's just a scribble or a wiggly line - doesn't do anything for me at all. One of my Italian journalist friends could, and still can write a better Enzo ferrari signature than the Old Man could in the final years of his life when his handwriting became very shaky.
Unhappily but obviously the rarest signatures are of those drivers who are no longer with us. World champion's signatures are extremely collectable because it gives the collectors a theme. The most expensive are those of Farina and Mike Hawthorn from the 1950s, Jim Clark and Jochen Rindt from the 1960s/70s and Ayrton Senna in the 1990s. Fangio was a prolific signer but since his death in 1995, the value of his signature is increasing.
The great side of autograph collecting is coming across a signature by chance. Always sift through old race programmes on the off- chance there will be driver signatures. You'll be surprised how often there are and the vendor has no idea.
Why am I telling you this?
At the moment we are offering signature pairings that tell stories - the 1981 Monaco programme signed by Didier Pironi with an attached grid sheet that is also signed by his team mate, Villeneuve who would become his deadly rival the following season. We also offer a programme signed by Ayrton Senna and Alain Prost at a time when they couldn't bear to be in the same motorhome together! There are also items signed by Graham Hill, Jack Brabham, Innes Ireland, John Surtees, Roy Salvadori, Ayrton Senna and many others.
Note that if an item is autographed, it is highlighted in bold in the description.
It is sad that driver signatures have gone from being stylish extensions of a driver's character to a careless scribble but maybe it's because there are too many fans wanting autographs and drivers with too little time to spend signing. I care for the story of the young Scottish garage mechanic who was quite good at racing and realised that his signature was a modest thing, the same as it had been in his schooldays. As he worked on his racing, he also worked on his signature, practising until it became as polished and professional as he was. Good bloke, that Jackie Stewart... Excuse me, Sir Jackie Stewart.
Eoin Young.
To read previous columns click on the links below:
1. SCRAPBOOKS and THE EDDIE HALL PHOTO ALBUM MYSTERY
2. GOODWOOD CIRCUIT REVIVAL 2001
3. SPRING RACING IN NEW ZEALAND
5. "CHASING THE TITLE"- A 'must-read' book...
8. NEW BOOKS, PRESCOTT AND GOODWOOD 2002
10. CLASSIC RACERS, FORZA AMON! and COLIN CHAPMAN
11. MY NEW BOOK... & BERNIE'S NEW BOOK
12. SELLING AT GOODWOOD AND BUYING AT BEAULIEU
13. TARGA NEW ZEALAND, BRABHAM ON SCHUMACHER, AMON ON CLARK
15. PUSHING BUTTONS; F1 DRIVER SHUFFLES
17. EXCITING COLLECTION OF PHOTOGRAPHS IN WARSAW
20. "FORZA AMON" COLLECTOR'S EDITION
21. DURANT RECORD BREAKING RUN
29. FRANK GARDNER LIVE ON STAGE!
---
Eoin Young is a New Zealander who left a bank job to join Bruce McLaren and help set up his racing team. More or less. He arrived in the UK in 1961 as a freelance journalist, covered the Formula Junior season with Denny Hulme, joined McLaren in 1962. Founder director of team. Established Motormedia 1966. Started weekly "Autocar" diary page in 1967 -- it ran until 1998. Covered CanAm, Indy and GP series. In 1979 established as a dealer in rare motoring and motor racing books and ephemera. Still trading with regular lists. Autobiography "It Beats Working" published in 1996. with its sequel "It Still beats Working" in 2003. After more than three decades based in the UK he has now returned to his native New Zealand.

The stock of Motor racing books and ephemera is constantly changing. Click here to view the current catalogue.