www.eoinyoung.com
Eoin Young's Collector's Column no. 28
Rare Ferrari Brochures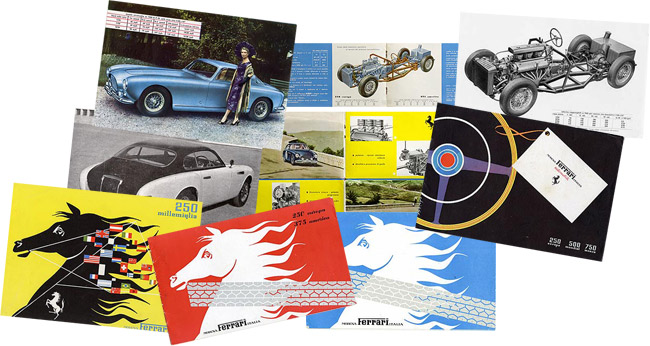 In the early 1950s a teenager in New Zealand with a fascination for Ferrari, wrote regularly to the factory in Maranello requesting the latest sales brochures. Some of these have surfaced sixty years later and include the rarest of all Ferrari sales catalogues for the Miglia Miglia and Monza racing sports cars. Collectors are surprised to find one Ferrari catalogue from the 1950s -- to find a collection of six in excellent condition is like winning a prancing horse lottery!. See the catalogue page for full details...
To read previous columns click on the links below:
1. SCRAPBOOKS and THE EDDIE HALL PHOTO ALBUM MYSTERY
2. GOODWOOD CIRCUIT REVIVAL 2001
3. SPRING RACING IN NEW ZEALAND
5. "CHASING THE TITLE"- A 'must-read' book...
8. NEW BOOKS, PRESCOTT AND GOODWOOD 2002
10. CLASSIC RACERS, FORZA AMON! and COLIN CHAPMAN
11. MY NEW BOOK... & BERNIE'S NEW BOOK
12. SELLING AT GOODWOOD AND BUYING AT BEAULIEU
13. TARGA NEW ZEALAND, BRABHAM ON SCHUMACHER, AMON ON CLARK
15. PUSHING BUTTONS; F1 DRIVER SHUFFLES
17. EXCITING COLLECTION OF PHOTOGRAPHS IN WARSAW
20. "FORZA AMON" COLLECTOR'S EDITION
21. DURANT RECORD BREAKING RUN
29. FRANK GARDNER LIVE ON STAGE!
---
Eoin Young is a New Zealander who left a bank job to join Bruce McLaren and help set up his racing team. More or less. He arrived in the UK in 1961 as a freelance journalist, covered the Formula Junior season with Denny Hulme, joined McLaren in 1962. Founder director of team. Established Motormedia 1966. Started weekly "Autocar" diary page in 1967 -- it ran until 1998. Covered CanAm, Indy and GP series. In 1979 established as a dealer in rare motoring and motor racing books and ephemera. Still trading with regular lists. Autobiography "It Beats Working" published in 1996. with its sequel "It Still beats Working" in 2003. After more than three decades based in the UK he has now returned to his native New Zealand.

The stock of Motor racing books and ephemera is constantly changing. Click here to view the current catalogue.