www.eoinyoung.com
Eoin Young's Collector's Column no. 26
Stirling or Tazio Tops?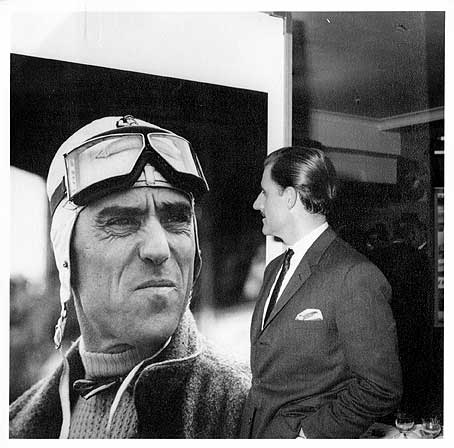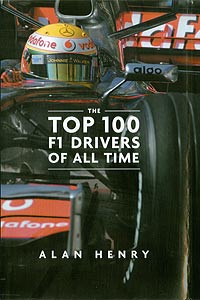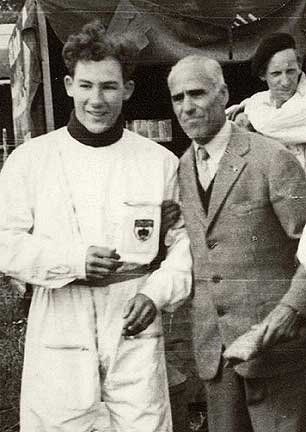 Top Grand Prix writers Alan Henry ( Autocar ) and Mark Hughes ( Autosport ) have clashed on their choice of the best racing drivers in the history of the sport. And I disagree with both! Henry chooses Sir Stirling Moss in his new book "Top F1 Drivers of all Time" while Hughes listed Tazio Nuvolari in a comprehensive feature he wrote for his magazine syndication a few years ago. What a thankless task and what a way to provoke argument in pubs! Jim Clark would be my top choice because he was the top driver when I joined the international motor racing world in the sixties. I had met the first Flying Scot earlier that season in New Zealand when he spun his Lotus in teeming rain at Wigram and wanted us to push-start him on the flooded straight. For some reason Wally Willmott and I were watching in the drenched infield. We declined, he abandoned the Lotus and we walked back to the pits with him. It was Jim Clark who dominated formula 1 in the 1960s and ran up what looked like an unsurpassable total of 26 GPs. Moss had crashed out of his career in 1962. Clark would crash fatally at Hockenheim in 1968. I was there when Sir Jackie Stewart equalled his Scottish mate's total - he was almost embarrassed - and also when he won his 27 th GP at the Nurburgring in 1973. He retired at the end of that's season having won three world titles as well as the 27 GPs. That seemed to be a total of wins that would never have been bettered but it was a different world then. Perhaps it's more to the point that it's a different world now and when Michael Schumacher retired he had won 91 GPs and seven world championships! And where does this modern miracle man feature on the pundit lists? Henry places him 11 th - outside the Top Ten - and Hughes places Michael 7th .
Stirling Moss was THE racing driver when I spent my first season in Europe in 1961. If a cop stopped you for speeding anywhere in the world he would usually ask "Who do you think you are - Stirling Moss?" On Easter Monday, 1962, Stirling crashed at Goodwood was lucky to escape with his life. In a link with both list toppers, I came across a photo of Stirling and Tazio at Silverstone and I e-mailed Sir Stirling to ask when this was and how often he had met with Nuvolari. By coincidence his reply arrived on Easter Monday this year, 46 years after his crash. "I remember meeting Tazio for the first time at Lago di Garda in 1949 when I was racing my 1000cc Cooper-JAP. I was third overall an won my class. I think Tazio had come over to Silverstone for the Royal GP in 1950. He was still driving a bit but only in small cars on events like the Mille Miglia. He was also ill with consumption by then. In his day, he must have been a genius. I couldn't say much to him because he only spoke Italian and mine was non-existent then!"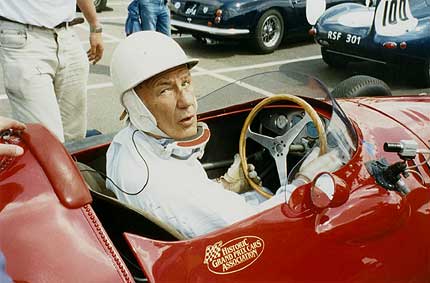 Ask enthusiasts whether they vote for Moss or Nuvolari and it's like asking them to light the blue touch-paper! Each hero has his army of dedicated fans. I'm swayed by the suggestion that Nuvolari may have had the broadest career as he had also raced motorcycles.
Hughes waxes lyrical on his Italian chart-topper: 'He had everything: balance, improvisation, intelligence, audacity and deep, deep competitive desire. His spirit was indomitable and he'd frequently fall out with team bosses who sought to contain him, to direct him. He couldn't be directed. Enzo Ferrari camne to know this, but not before some fiery exchanges. Some of those close to Enzo said thy believed the old man was jealous because Nuvolari was the embodiment of the driver Enzo desperately wanted to have been but wasn't. Certainly he remained the old man's number one right to the end, saying he felt only Moll, Moss and Villeneuve were even worthy of comparison.'
I would hesitate to name my Top Ten, never mind a Top Hundred! Let's look at their Top Ten listings:
Alan Henry's Top Ten:
Stirling Moss
Jim Clark
Ayrton Senna
Alain Prost
Alberto Ascari
Juan-Manuel Fangio
Bernd Rosemeyer
Jackie Stewart
Tazio Nuvolari
Mika Hakkinen
Mark Hughes' Top Ten:
Tazio Nuvolari
Gilles Villeneuve
Bernd Rosemeyer
Ayrton Senna
Jim Clark
Juan-Manuel Fangio
Michael Schumacher
Stirling Moss
Fernando Alonso
Georges Boillot
Sir Jackie Stewart was amused at his No. 8 slot in Henry's book, saying that he was in good company, between Rosemeyer and Nuvolari! For reasons unclear, Rudolf Caracciola, who would have been World Champion for Mercedes in the late thirties is the title had existed then, only rates at 33 in Henry's books.
Among the Kiwi racers, Chris Amon features strongly at 13 th in Henry's list, but Hughes only has him 32 nd . Henry has Denny Hulme at 52, Hughes at 84! Bruce McLaren is 74 th on Henry's list but doesn't feature at all in the Hughes ratings!
I taxed Hughes with the omission and he replied "Nothing personal. I just thought that purely as a 'driver' rather than as an inspirational team leader, he was good rather than great." Bruce used to say that he could have been a better driver if he wasn't an engineer and he could have been a better engineer if he hadn't been a driver...
Mid-grid in Henry's list sees the Hills grouped - Phil on 38, Damon on 39 and Graham on 44. Oncer world champs Alan Jones lists at 36, one ahead of James Hunt. Brits will be interested to see Henry rating Lewis Hamilton, who makes winning look effortless, at 30, and Nigel Mansell, who made it look incredibly difficult, at 31!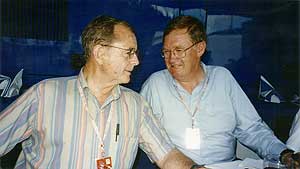 Phil Hill (#38 in AH list) with Alan Henry at Monza.
Moss was almost a British emblem like the Union Jack. After his Easter Monday crash at Goodwood in 1962 "The entire country waited with baited breath as he lay unconscious in his hospital bed for almost a month. For Moss had long since become regarded as a national institution, not only one of the UK's foremost international sportsmen but a huge personality in his own right, a character who radiated infectious enthusiasm and huge charisma."
Intriguing to realise that Stirling's career only lasted a decade, from 1952 when he drove HWM, ERA and Connaught, to 1962 when he crashed and never raced again. In 1955 Stirling received the huge accolade of being signed to drive for Mercedes as number two to Fangio and when the German withdrew after that season in the wake of the Le Mans disaster, he drove for Maserati and Vanwall, and then raced Cooper and Lotus for Rob Walker. There was an exciting plan to race a Walker-entered Ferrari in 1962, but those plans ended in the bank at St Mary's. In the sixties there were only eight or nine GPs in a season, half the current calendar, one of the reasons why Moss won 16 GPs and no world titles and Schumacher could win 91 GPs and seven championships.
Tazio Nuvolari, Hughes' top choice, was the first racing driver to champion and emblem - a tortoise! In the 1930s, the Italian poet laureate, Gabrielle D'Annunzio, awarded any Italian personage perfoming what he regarded as a feat of note, with one of his distiunctive tortoise lapel pins. He met Nuvolari early in 1932, gave him a gold tortoise pin, saying "To the fastest human, the slowest animal!" and commanded him to win the Targa Florio. Which he duly did. From then on he adopted the D'Annunzio tortoise emblem as his own, wearing sweaters with a huge tortoise design and when he died in 1953 he was buried wearing his racing uniform of blue trousers and yellow jersey with the tortoisde motif on his breats. Tazio used to sign autograph books for friends with a sketch of a tortoise instead of his usualm signature. To this day you can buy Tazio Tortoise pins at the Nuvolari museum in his hometown of Mantua.
Mark Hughes had the luxury of reading Alan Henry's book some time after he had worked out his own version of the Top Ton and in his Autosport column he wrote "Of course there can be no 'correct' list. How can you compare drivers who never competed against each other, who faced very different challenges, very different competitive circumstances? You can't, ultimately. It's not even possible to definitively rate drivers who compete against each other every two weeks. The closest we can get to direct comparison is between team-mates - and even then the waters can get horribly muddied..."
P.S. Having just finished this feature, by sheer chance I discovered "The One Hundred Greatest Racing Drivers" written by one Alan Henry in 2000! Differences? His Top Ten then was: Moss, Senna, Prost, Clark, Fangio, Ascari, Nuvolari, Rosemeyer, Gilles Villeneuve and Stewart. Puzzled? Join the club!
Eoin Young is a New Zealander who left a bank job to join Bruce McLaren and help set up his racing team. More or less. He arrived in the UK in 1961 as a freelance journalist, covered the Formula Junior season with Denny Hulme, joined McLaren in 1962. Founder director of team. Established Motormedia 1966. Started weekly "Autocar" diary page in 1967 -- it ran until 1998. Covered CanAm, Indy and GP series. In 1979 established as a dealer in rare motoring and motor racing books and ephemera. Still trading with regular lists. Autobiography "It Beats Working" published in 1996. with its sequel "It Still beats Working" in 2003. After more than three decades based in the UK he has now returned to his native New Zealand.