www.eoinyoung.com
Eoin Young's Collector's Column no. 2
Goodwood Circuit Revival
You would have enjoyed the Goodwood Revival this year. The right crowd and no crowding, as they used to say at Brooklands. Lord March encouraged the right crowd by his stipulation that you had to dress in period style (1948-1966). Press folk had to wear a jacket and tie or they would be refused access to the paddock. No anoraks, no jeans, no trainers.
Sir Jack Brabham was down to race an Aston Martin DB4 GT and a Mark Seven Jaguar but he seemed less than totally impressed at the prospect of the Jaguar. "It's like steering a bloody boat! It's dreadful, and when I say dreadful I mean dreadful!" He gave me to understand that there were virtually no brakes and he wasn't looking forward to racing against TV funny-man Rowan Atkinson who had scored a long-lost competition version of the Mark Seven with lightweight engine, proper suspension and D-Type wheels. Apparently it was once fitted with a full-race D-Type engine!
I noticed a Caterham Seven on the way to Goodwood wearing a Bugatti Owners Club decal on its windscreen and as we followed I tried to figure out the registration number "T 35". Then the centime dropped: Type 35 Bugatti. This was presumably a Bugatti man who was getting his vintage performance kicks and period wind-in-the-hair from the Lotus Seven evolution car without the cost and upkeep of a real Ettore car.
We drove down in a road test BMW 330d SE Sport Saloon and if I hadn't specifically ordered this diesel, I would never have guessed it was an oil-burner. The turbocharged straight-6 was silky smooth with loads of mid-range lift from its 184 bhp. Top speed? Britain's current formula 1 darling, Jenson Button, got pulled on a French Autoroute last year doing 141mph in a BMW 330d and BMW couldn't believe the heaps of free publicity they earned for their new diesel! The Goodwood programme featured a fantastic photograph of the start of the Tourist Trophy sports car race in 1964 with Bruce McLaren smoking the tyres on his Zerex Special in pole position nearest the camera with Jimmy Clark and Graham Hill also in shot. I was in Bruce's pit next door to Lotus. Bruce had led and then retired with a clutch problem, so we had a grandstand seat for the action in the Lotus pit when Jimmy came in out of the lead to fuel the sleek but unloved Lotus 30. They filled out of cans then and the empties clanged back on to the pit counter but as Jimmy roared away, the last can went on to the counter with a dull thud! It was still full! The Lotus had baulked at the last can and Jimmy would have to stop again. Colin Chapman was livid and the mechanic was sacked on the spot. In fact Allan McCall remembers Chapman chasing the mechanic away from the pits, hitting him with the signal board and numbers scattering! Clark also retired and Graham Hill won in a Ferrari. A photo on the day shows a dejected Jimmy sitting on the Lotus counter with Bruce McLaren and my good self watching from the next pit counter. Lord March makes a pretty penny from his Goodwood merchandise and this year launched a new SWB style range around the theme of Rob Walker's Ferrari Short Wheel Base 250GT that Stirling Moss raced with huge success at the Sussex track. You could have a rugby shirt or a zip-up pullover in Rob's blue and white colours at £45 each, a pair of braces at £39.95, a 1:43 scale model of the Ferrari at £98.95 or a tie at £55. A window sticker was a slightly more affordable £1.50. I was wearing a splendid Donegal tweed cap (well, I thought it was splendid) but I didn't appreciate quite how splendid it was until I spotted a postcard of Tazio Nuvolari on Graeme Simpson's Motor Racing Tradition stand, priced within my budget at fifty pence. Tazio was wearing a cap exactly like mine. I bought one of the postcards and flourished it with authority if anyone dared to cast aspersions at my headgear!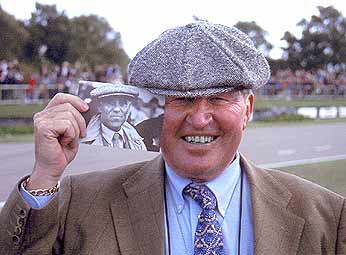 I was talking about the Italian poet, Gabrielle D'Annunzio, with the British ex-pat Jason Wright who lives near Lake Garda in Italy and was racing a beautiful little 1965 Alfa Romeo Giulia TZ1. D'Annunzio's home has been turned into a museum overlooking Lake Garda and among the rooms full of presentation gifts on display is a rather bent steering wheel. It was from the wreck of Segrave's fatal attempt at the water speed record in June 1930 and given to D'Annunzio by Lady Doris Segrave in thanks for a poem the Italian had written in memory of the racer and record breaker whom he had met during record runs on Lake Garda.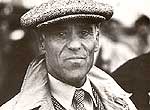 Jason is something of an expert on D'Annunzio and he explained that it was the Italian poet who had been responsible for Nuvolari's tortoise emblem. I always thought the tortoise was the emblem of the province around Mantua, Tazio's hometown, but apparently this was perceived folklore. D'Annunzio had a pet tortoise which eventually died and being something of a romantic he had it stuffed and all its extremities gold-plated. It sat on display on his dining table at all times. The poet was a national institution and great mates with Mussolini and whenever he noted an Italian doing something special, he sent one of his tortoise lapel pins. When Nuvolari drove an Alfa Rome to win the Mille Miglia in 1930, he was awarded a tortoise pin from the poet with a telegram saying: To the fastest man, the slowest animal. Nuvolari was fascinated and used the tortoise emblem as his own from then on.


There some great sights, strolling through the paddock, including an elderly gent wearing a pair of equally aged once-white overalls bearing the legend 'ALTA CARS - Racing Department.' Many of the cars looked far better than they did when new. Others, like Nick Finburgh's 1953 C-Type with its stone chips and original race grime looked superbly period and in place.
Pink Floyd drummer, Nick Mason, was racing his GTO Ferrari and I bumped into his dad, Bill Mason, who makes splendid historic motor racing videos. His latest, made with ERA historian David Weguelin, is 'Racing Mercedes 1895-1955' and will be out for the Christmas market. The 1955 cut-off date? "After that we come up against copyright problems," said Bill with a smile. 1955 was a convenient cut-off because it was Mercedes' season of formula 1 domination, after which the company withdrew from competition (also prompted by the backlash against motor-sport following the 1955 Le Mans disaster). Their research is like racing archaeology. Somehow they came across forty minutes of pre-1914 motor racing in Russia!
Goodwood has black memories for me because it was where Bruce McLaren lost his life testing a CanAm sports car back in June 1970, but there are happy memories too. I love the story of Mike Hawthorn winning the main race at Goodwood and then flying his plane back Fairoaks near his Farnham home- and then getting his Jaguar out and driving back to Goodwood so that he could enjoy a pub crawl home with his mates! Different days!
The weekend before Goodwood I had been a concours d'elegance judge at a stately home in Kent, sharing duties with Les Leston, former racer of note and purveyor of motor racing accessories from his emporium at Holborn in London in the 1960s. We gave the top prize to a gorgeous 1931 Cadillac V12 roadster. The owner of the stately pile gave a speech about Leston's racing record and then Les rose to add that, before he went racing he trained to be an actor but he was thrown out of his drama school for a mistake that came about by mis-reading the stage notes. 'It said "Enter Ophelia. From the rear."
DUSTWRAPPERS. I can't emphasise enough the value of buying a book with a good dustwrapper for your motoring library. The dustwrapper is designed to protect the book cover boards but as such, it inevitably suffers damage from years of re-reading, so a 50-year-old book with its original dustwrapper in fine condition, is always worth acquiring. I always try to find good books in good 'wrappers' but from time to time I find a collectable title without a dustwrapper but in good clean condition and I will offer this with suitable description. I care for the story of the well-known motoring writer with a very impressive library of motoring books in his equally impressive study, but he returned from a car launch to find that every one of his books had been stripped of its dustwrapper. His wife felt that they clashed with the curtains, so she burned every one!
Eoin Young.
To read previous columns click on the links below:
1. SCRAPBOOKS and THE EDDIE HALL PHOTO ALBUM MYSTERY
2. GOODWOOD CIRCUIT REVIVAL 2001
3. SPRING RACING IN NEW ZEALAND
5. "CHASING THE TITLE"- A 'must-read' book...
8. NEW BOOKS, PRESCOTT AND GOODWOOD 2002
10. CLASSIC RACERS, FORZA AMON! and COLIN CHAPMAN
11. MY NEW BOOK... & BERNIE'S NEW BOOK
12. SELLING AT GOODWOOD AND BUYING AT BEAULIEU
13. TARGA NEW ZEALAND, BRABHAM ON SCHUMACHER, AMON ON CLARK
15. PUSHING BUTTONS; F1 DRIVER SHUFFLES
17. EXCITING COLLECTION OF PHOTOGRAPHS IN WARSAW
20. "FORZA AMON" COLLECTOR'S EDITION
21. DURANT RECORD BREAKING RUN
29. FRANK GARDNER LIVE ON STAGE!
---
Eoin Young is a New Zealander who left a bank job to join Bruce McLaren and help set up his racing team. More or less. He arrived in the UK in 1961 as a freelance journalist, covered the Formula Junior season with Denny Hulme, joined McLaren in 1962. Founder director of team. Established Motormedia 1966. Started weekly "Autocar" diary page in 1967 -- it ran until 1998. Covered CanAm, Indy and GP series. In 1979 established as a dealer in rare motoring and motor racing books and ephemera. Still trading with regular lists. Autobiography "It Beats Working" published in 1996. with its sequel "It Still beats Working" in 2003. After more than three decades based in the UK he has now returned to his native New Zealand.

The stock of Motor racing books and ephemera is constantly changing. Click here to view the current catalogue.