www.eoinyoung.com


Eoin Young's Collector's Column no. 17


Exciting collection of original motor racing photographs offered for sale in Warsaw.

It seems hard to believe but a missionary in Asia suggested to Tomasz Szczerbicki in Poland that he contact me in New Zealand to see if I would be interested in his collection of pre-war motor racing photographs. The worldwide web made the link. Tomasz grew up in Warsaw, became interested in racing history at age 15 when he read in an old magazine that Rudi Caracciola regarded the Lwow (or Lvov in Polish) street circuit in Poland as the toughest track he'd ever raced on. Harder than the Nurburgring or Monaco.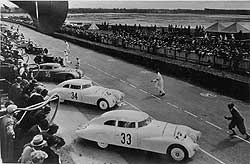 xxxxxxxx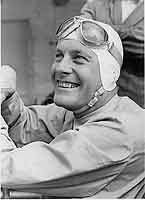 xxxxxxxx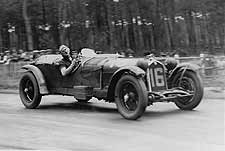 When Tomasz started his collecting hobby he cursed the fact that the 'Iron Curtain' meant he couldn't travel to the west, but in hindsight it may have been a benefit since it meant that Tomasz had a clear search area in the East which was effectively closed down for wealthy Western collectors. His collection of photographs is comprehensive and he wants to sell some to raise funds. He speaks and writes good English and you can reach him by e-mail on t.szczerbicki@wp.pl
He started out with a motorcycle at 13 and graduated to four wheels four years later. His first interest was in writing about motorcycle when he was 19 – he's now 35 – and last year he wrote a feature profile on Ernst Henne celebrating his 100th birthday. Henne raced BMW motorcycles and set a world record on a 500cc supercharged BMW in 1937. Another Polish driver that Tomasz tracked down was Jan Ripper, who raced a Bugatti in the 1920s and 1930s and was offered trials drives by both Mercedes and Auto Union. Because of the political situation between Germany and Poland in the 1930s, he refused both offers.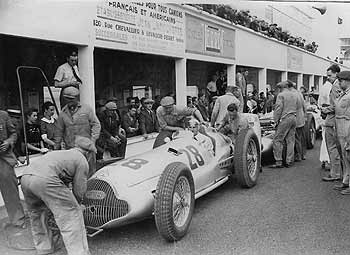 xxxxxxxx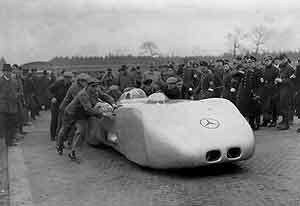 xxxxxxxx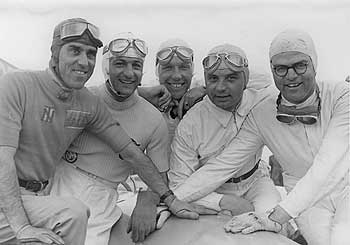 The selection of photographs Tomasz sent me as a sampler, include Adlers at Avus in 1937, a portrait of Auto Union racer, Hans Stuck, Sir Henry Birkin winning the 1931 Le Mans race in the Alfa Romeo, Herman Lang's Mighty Mercedes being fettled in the pits at Reims before the Grand Prix in 1938, the streamliner Mercedes being wheeled out for a record run in February 1939, the Auto Union Grand Prix driver lineup, (all shown above) plus dozens of others like the Mille Miglia 328 BMW GT and Hasse in the pits at the Nurburgring with the Auto Union in 1936, Sir Malcolm Campbell in the cockpit of 'Bluebird'.
Good stuff!


Eoin Young.

To read previous columns click on the links below:

1. SCRAPBOOKS and THE EDDIE HALL PHOTO ALBUM MYSTERY

2. GOODWOOD CIRCUIT REVIVAL 2001

3. SPRING RACING IN NEW ZEALAND

5. "CHASING THE TITLE"- A 'must-read' book...

8. NEW BOOKS, PRESCOTT AND GOODWOOD 2002

10. CLASSIC RACERS, FORZA AMON! and COLIN CHAPMAN

11. MY NEW BOOK... & BERNIE'S NEW BOOK

12. SELLING AT GOODWOOD AND BUYING AT BEAULIEU

13. TARGA NEW ZEALAND, BRABHAM ON SCHUMACHER, AMON ON CLARK

15. PUSHING BUTTONS; F1 DRIVER SHUFFLES

17. EXCITING COLLECTION OF PHOTOGRAPHS IN WARSAW

20. "FORZA AMON" COLLECTOR'S EDITION

21. DURANT RECORD BREAKING RUN

29. FRANK GARDNER LIVE ON STAGE!
---
Eoin Young is a New Zealander who left a bank job to join Bruce McLaren and help set up his racing team. More or less. He arrived in the UK in 1961 as a freelance journalist, covered the Formula Junior season with Denny Hulme, joined McLaren in 1962. Founder director of team. Established Motormedia 1966. Started weekly "Autocar" diary page in 1967 -- it ran until 1998. Covered CanAm, Indy and GP series. In 1979 established as a dealer in rare motoring and motor racing books and ephemera. Still trading with regular lists. Autobiography "It Beats Working" published in 1996. with its sequel "It Still beats Working" in 2003. After more than three decades based in the UK he has now returned to his native New Zealand.

The stock of Motor racing books and ephemera is constantly changing. Click here to view the current catalogue.