www.eoinyoung.com
Eoin Young's Collector's Column no. 24
Ferrari First and Last.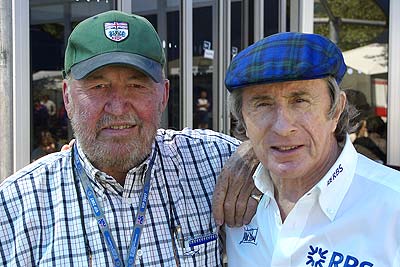 The link between the first Grand Prix I covered as a journalist in France in 1961 and my final race in Melbourne last Sunday, 46 years later, was that a new driver in a factory Ferrari won both events. Giancarlo Baghetti was an Italian rookie having his first full-blown Grand Prix for Ferrari on the flat-out road course in the Reims champagne country that Sunday in '61. Last weekend the winner was a fresh-faced young Finn, Kimi Raikkonen, who had just switched teams from McLaren snatching the opportunity when Michael Schumacher quit, releasing the seat at Ferrari. It seemed that he couldn't help himself, starting from pole position and going faster and faster throughout the race despite his extending lead, later claiming that his cockpit radio had failed and he couldn't hear the team suggestions that he ease his pace.
Fernando Alonso and Lewis Hamilton were second and third for McLaren-Mercedes, clearly out-run by the Ferrari. I had entertained the theory that Ferrari would dip into a cyclical slump of non-competiveness when the all-conquering German Schumacher hung up his helmet. Schumacher had moulded the team around him, bringing top men from other teams during his record-breaking run. There were no Italians at the top of the Ferrari team but this changed when Schumacher left. What didn't change was the Ferrari pace as Raikkonen displayed in Australia.
I was impressed at the performance of young Lewis Hamilton, 22, and the first black driver in Grand Prix racing. He spent the entire weekend of his career-first Grand Prix, composed and comfortable in his new high-profile role. Everyone seemed to have a view on his chances. Alan Jones, the tough Aussie who won the world championship for Williams in 1980, wrote in his column in The Age on the day of first practice that he had no interest in the colour of Hamilton's skin. 'The next Tiger Woods? Lewis might as well be the next Harry Belafonte. I just want to see how fast he really is in a formula 1 car. He looks the goods to win races." Hamilton gathered the respect of the paddock from day one. I placed a TAB wager of $20 on Hamilton at 13-to-1 on the morning of first practice and fancied my chances as the weekend progressed. His time will come.
How has Grand Prix racing changed in the last half century? An industry has grown around the background to the races, cars and drivers with a whole world of support people, all in a hurry, looking like they're working, much glancing at watches. A designer in formula 1 now earns millions of dollars a season whether he is designing the car in front or hopefully drawing pace for also-runners. In 1963 when we registered the Bruce McLaren Racing Team in Britain there were four or five of us and the designer was paid the same as the mechanics. And the mechanics were not happy at this set-up as they reckoned they worked harder and longer than the designer did…
The race result was never terribly important to me because for 30-odd years I wrote a weekly Diary column in Autocar dedicated to the stories behind the news as opposed to the news itself. The regulars at The Barley Mow, my local at West Horsley in Surrey, already knew the result because they had either watched the race on TV, heard it on the radio or read about it in that morning's Fleet Street papers. They wanted to know the juicy bits that never made it into the report. If paddock news was slack I would spark a new story writing 'There is no truth in the rumour that…' and then watch my colleagues desperately trying to find out whether there was any substance to my rumour.
The sports drink-maker Red Bull sponsors a formula 1 team and publishes a daily magazine over the race weekend. In their Friday issue in Melbourne they ran a photo of travel lady Lyndy Swainston, journalist Maurice Hamilton and my goodself lunching at the 1980 South African Grand Prix. We recreated the photo in Melbourne and it ran in the race morning issue of 'The Red Bulletin'.
Three-time world champion Sir Jackie Stewart had invited me to dinner on the Friday night but as I had been travelling I didn't have the time or the place and I was phoning Melbourne hotels to try and find him. The receptionist at The Hilton came back to me and said they didn't have a lady of that name registered…. How soon they forget! Jackie didn't think it was as funny as I did, or fellow-scribes Maurice Hamilton, Alan Henry and David Tremayne did at the exclusive dinner Jackie had arranged for us in his penthouse hotel suite. Jackie screened a private viewing of the film profile his son Mark had produced on the life of Graham Hill, Stewart's team-mate at BRM, and twice world champion, whose son Damon would win the world title for Williams in 1996. Stewart told us that he is deep into writing his autobiography without the help of a ghost, and worries at the depth he should go into describing some of the more lurid incidents in his career. At one stage he broke down, sobbing as he described the fatal crash of a team-mate.
Christchurch snapper Terry Marshall was shooting for my final-race feature in the top American magazine Road & Track and we borrowed Jackie from lunch with a couple of his high-dollar Royal Bank of Scotland sponsors at Williams, for a photo. I excused us for borrowing their star, saying that Jackie and I were virtually twins…he was a day younger than me, but a good deal richer, and on cue he told them the tale of his offer to pay me 10% o everything he earned, way back in the 'sixties when he was starting out.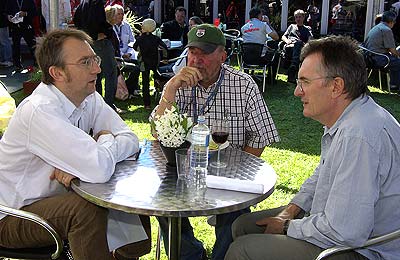 Over one paddock lunch we pondered who was the longest serving driver and we all went for David Coulthard, now with Red Bull. Incorrect. Jarno Trulli? Also wrong. It was Brazilian Rubens Barichello who had arrived in 1993 and driven for Jordan and later for Jackie Stewart's team. Over our dinner Jackie reminded us that it was 10 years since his Stewart Grand Prix team raced for the first time in Melbourne…and 40 years since he had driven to win the Australian Grand Prix at Sydney's Warwick Farm circuit, long since closed. He finished half a minute ahead of fellow-Scot Jim Clark. It was that sort of time-warp weekend that won't be repeated.
by Eoin Young
To read previous columns click on the links below:
1. SCRAPBOOKS and THE EDDIE HALL PHOTO ALBUM MYSTERY
2. GOODWOOD CIRCUIT REVIVAL 2001
3. SPRING RACING IN NEW ZEALAND
5. "CHASING THE TITLE"- A 'must-read' book...
8. NEW BOOKS, PRESCOTT AND GOODWOOD 2002
10. CLASSIC RACERS, FORZA AMON! and COLIN CHAPMAN
11. MY NEW BOOK... & BERNIE'S NEW BOOK
12. SELLING AT GOODWOOD AND BUYING AT BEAULIEU
13. TARGA NEW ZEALAND, BRABHAM ON SCHUMACHER, AMON ON CLARK
15. PUSHING BUTTONS; F1 DRIVER SHUFFLES
17. EXCITING COLLECTION OF PHOTOGRAPHS IN WARSAW
20. "FORZA AMON" COLLECTOR'S EDITION
21. DURANT RECORD BREAKING RUN
---
Eoin Young is a New Zealander who left a bank job to join Bruce McLaren and help set up his racing team. More or less. He arrived in the UK in 1961 as a freelance journalist, covered the Formula Junior season with Denny Hulme, joined McLaren in 1962. Founder director of team. Established Motormedia 1966. Started weekly "Autocar" diary page in 1967 -- it ran until 1998. Covered CanAm, Indy and GP series. In 1979 established as a dealer in rare motoring and motor racing books and ephemera. Still trading with regular lists. Autobiography "It Beats Working" published in 1996. with its sequel "It Still beats Working" in 2003. After more than three decades based in the UK he has now returned to his native New Zealand.

The stock of Motor racing books and ephemera is constantly changing. Click here to view the current catalogue.