www.eoinyoung.com
Eoin Young's Collector's Column no. 17
Hermann Beats the Train

By a happy coincidence I met up with my schoolboy racing hero at the Monaco Historic races. It was the 40th anniversary of the Anciens Pilote's club and Mike Sparken had hosted a splendid lunch at his Cap Ferrat home. All the Golden Oldies were there. Phil Hill, Dan Gurney, Tony Brooks, Roy Salvadori, Paul Frere, Jacques Swaters, Jean Guichet, Giannino Marzotto, Nino Vacarella, Les Leston, Tony Gaze, Cliff Allison, Maurice Trintignant, Tim Parnell, and Howden Ganley among others I may have missed.
Hans Hermann turned up and I learned that he had signed a print of a drawing of him ducking under a level crossing gate on the Mille Miglia, just dodging a train.
This was the coincidence and Hermann was my hero. When I was a schoolboy at Timaru in New Zealand the shops were open late-night Fridays and I used to visit the town's only bookshop just to leaf through a book of motor racing art that I couldn't afford to buy. It was 'Motor Racing Sketchbook' by German artist, Carlo Demand, and my favourite picture was this electrifying portrayal of Hermann's Porsche diving under the level-crossing bar in the Mille Miglia.
The coincidence continued. Years later, when I was living in Surrey and setting up my rare motoring book business, I had a letter from a "C. Demand" in Germany ordering a book. As luck would have it, he was the famous Carlo Demand - and he still had the original artwork of that Porsche picture which I bought from him in a sort of triumphal achievement at getting the artwork that I had drooled over as a schoolboy.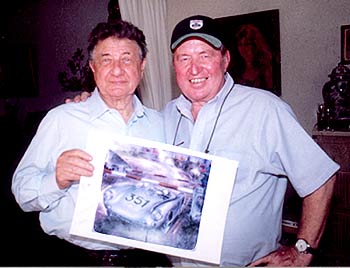 And here was Hans Hermann, signing a copy of the original picture so we had to arrange a photograph of us together with the artwork. I asked him how it had happened. "We were doing about 160kph and the level crossing bars were around a blind bend. There was a marshal with a warning flag but he was almost at the crossing and I had no chance of stopping in time. I whacked my co-driver on the helmet, pushing him down and we both ducked under the bar. The train was only metres away!"
It was the 40th anniversary of the old drivers' club and it was the 40th anniversary of my first Grand Prix as the first employee of Bruce McLaren. We were in Monaco 1962 and Bruce was driving for Cooper. Bruce led away, then was caught by Graham Hill's BRM and Jimmy Clark's Lotus but both broke and he scored a win from Phil Hill's Ferrari. I found a copy of the 'Autosport' that covered Bruce's win with a cover photograph of him in action and took it to the luncheon to have the old drivers sign it. As you do...
Phil Hill spotted the magazine and I joked that Bruce had beaten him by five seconds. "Five seconds! It was one point four seconds!" exploded Phil, with crystal memory of that race four decades before. He was even more pleased when we looked up the results to check and found that he had actually only been one point THREE seconds behind the flying Kiwi in the Cooper.
We went out to Cap Ferrat by train from Monaco to Beaulieu and paused a few miles down the line at Eze-sur-Mer to Cliff Allison's delight. "We used to stay out here with Team Lotus in 1958 and drive the Grand Prix cars to and from the track. That was great fun. You couldn't do it now"
The old drivers and historic cars brought all sorts of memories back. I've always liked the story of Phil Hill getting back to his hotel after the early morning practice session to be accosted by an elderly resident demanding to know if he was one of the people making all that noise. "What are you doing?" She asked. Phil said that he had been practising for the Grand Prix. "Practising? Only PRACTISING? Can't you do it somewhere else-!"
Eoin Young.
To read previous columns click on the links below:
1. SCRAPBOOKS and THE EDDIE HALL PHOTO ALBUM MYSTERY
2. GOODWOOD CIRCUIT REVIVAL 2001
3. SPRING RACING IN NEW ZEALAND
5. "CHASING THE TITLE"- A 'must-read' book...
8. NEW BOOKS, PRESCOTT AND GOODWOOD 2002
10. CLASSIC RACERS, FORZA AMON! and COLIN CHAPMAN
11. MY NEW BOOK... & BERNIE'S NEW BOOK
12. SELLING AT GOODWOOD AND BUYING AT BEAULIEU
13. TARGA NEW ZEALAND, BRABHAM ON SCHUMACHER, AMON ON CLARK
15. PUSHING BUTTONS; F1 DRIVER SHUFFLES
17. EXCITING COLLECTION OF PHOTOGRAPHS IN WARSAW
---
Eoin Young is a New Zealander who left a bank job to join Bruce McLaren and help set up his racing team. More or less. He arrived in the UK in 1961 as a freelance journalist, covered the Formula Junior season with Denny Hulme, joined McLaren in 1962. Founder director of team. Established Motormedia 1966. Started weekly "Autocar" diary page in 1967 -- it ran until 1998. Covered CanAm, Indy and GP series. In 1979 established as a dealer in rare motoring and motor racing books and ephemera. Still trading with regular lists. Autobiography "It Beats Working" published in 1996. with its sequel "It Still beats Working" in 2003. He lives in tiny low-beam period cottage in Bookham, Surrey. Drives VW Golf VR6.

The stock of Motor racing books and ephemera is constantly changing. Click here to view the current catalogue.