www.eoinyoung.com
Eoin Young's Collector's Column no. 14
It Still Beats Working!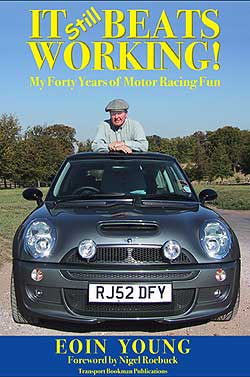 This second volume of my autobiography is all new with the stories that I forgot to include in the first one -- "It Beats Working" which came out in 1995 and is now out of print -- plus chapters on what life is like wandering around the world to cover the classic events as a relaxing change from Formula 1.
The book details how I had my media pass lifted before the British Grand Prix last year, how I drove a fearsome Bugatti Type 59, and our best-ever Barley Mow lunch which turned out to be Ken Tyrrell's last. Enjoy the inside-story profile of Phil Hill. Monaco life from Roy Salvadori's apartment when the Historic Grand Prix come to town. Travel with me to the 100th anniversary of the Gordon Bennett race near Dublin, drink Guinness and drive Jarrott's Napier. Re-live the time I took Rob Walker's Delahaye back to Ulster for the 50th anniversary of the Ards TT and return for the 75th anniversary antics last year. Find out why Sir Stirling Moss and Sir Jackie Stewart didn't drive for Ferrari. Read what the world's first -- and almost last! -- major race was like on the road from Paris to Madrid...except that the carnage was so great the event was abandoned at Bordeaux. Classic racing now is the Good Old Days revisited and I find more and more memories of what Grand Prix racing used to be like when I first became involved in the 1960s. We go to Prescott for the Bugatti Owners' Club hillclimb, Goodwood for the Circuit Revival, Beaulieu for the autojumble, and -- amazingly -- to Austria the following weekend for the classic Alpenfahrt rally as navigator in the works-entered Mercedes! "It Still Beats Working" is the next best thing to being there! Cheaper, too... The book has been published to an extremely high standard of production and layout by Transport Bookman, the specialist publishing arm of Chaters bookshop. It was launched in Britain just before Christmas, 2003.
If you would like a signed and dedicated copy -- always appreciated as a personalised present! -- e-mail me on eoinyoung@clear.net.nz with
Visa/MasterCard and mailing details and we will process your order through Fazazz, the amazing motoring bookshop in Christchurch, New Zealand. Price guide mailed ex-NZ is $NZD
69.95, $USD 45.00, £GBP25.00. Your choice of air/surface mail charged extra at cost.
Eoin Young.
To read previous columns click on the links below:
1. SCRAPBOOKS and THE EDDIE HALL PHOTO ALBUM MYSTERY
2. GOODWOOD CIRCUIT REVIVAL 2001
3. SPRING RACING IN NEW ZEALAND
5. "CHASING THE TITLE"- A 'must-read' book...
8. NEW BOOKS, PRESCOTT AND GOODWOOD 2002
10. CLASSIC RACERS, FORZA AMON! and COLIN CHAPMAN
11. MY NEW BOOK... & BERNIE'S NEW BOOK
12. SELLING AT GOODWOOD AND BUYING AT BEAULIEU
13. TARGA NEW ZEALAND, BRABHAM ON SCHUMACHER, AMON ON CLARK
15. PUSHING BUTTONS; F1 DRIVER SHUFFLES
17. EXCITING COLLECTION OF PHOTOGRAPHS IN WARSAW
20. "FORZA AMON" COLLECTOR'S EDITION
21. DURANT RECORD BREAKING RUN
29. FRANK GARDNER LIVE ON STAGE!
---
Eoin Young is a New Zealander who left a bank job to join Bruce McLaren and help set up his racing team. More or less. He arrived in the UK in 1961 as a freelance journalist, covered the Formula Junior season with Denny Hulme, joined McLaren in 1962. Founder director of team. Established Motormedia 1966. Started weekly "Autocar" diary page in 1967 -- it ran until 1998. Covered CanAm, Indy and GP series. In 1979 established as a dealer in rare motoring and motor racing books and ephemera. Still trading with regular lists. Autobiography "It Beats Working" published in 1996. with its sequel "It Still beats Working" in 2003. After more than three decades based in the UK he has now returned to his native New Zealand.

The stock of Motor racing books and ephemera is constantly changing. Click here to view the current catalogue.