www.eoinyoung.com
Eoin Young's Collector's Column no. 19
My New Bruce McLaren Book.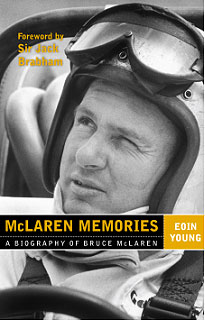 In 1948 11-year-old Bruce McLaren defied doctors in Auckland, New Zealand who told him he might never walk again, becoming a leading international motor racing champion, winning Grand Prix races and establishing a team that still carries his name in Formula One.
With an enviable reputation as a safe driver with an engineering background who respected limits, his tragic death while testing a new CanAm sports car at Goodwood in June 1970 shocked the racing world.
Jack Brabham stayed with the McLaren family during his first race overseas — the 1954 New Zealand Grand Prix — and the young schoolboy was intrigued with the preparation of Brabham's Cooper-Bristol. The friendship led to Brabham selling his father Cooper cars and Bruce raced successfully enough to be awarded a new Driver to Europe scholarship in 1958.
The following season he was Brabham's teammate in the Grand Prix team and made racing history when he won the final race of the 1959 season, the US Grand Prix at Sebring. At 22, Bruce was the then youngest-ever Grand Prix winner.
In 1960 he won the Grand Prix in Argentina, establishing a link that would see McLaren the man win the first race of the decade and a McLaren car win the final race when Denny Hulme won the Mexican Grand Prix in 1969.
When Brabham left the Cooper team in 1962, Bruce took over as team leader, a position he held until he built his own Grand Prix car for the 1966 season. He had formed his own racing team in 1964, winning the New Zealand Grand Prix that season.
In 1966 he won the Le Mans 24-hour race for Ford and in 1967 and 1969 won the CanAm championship in North America driving a car with his name on the nose.
In a retelling of those formative years, the book calls on memories of Bruce from fellow team members, McLaren family and friends and Bruce's own words to provide an insight into what drove him to become one of the racing greats of his time.
McLaren Memories is published by HarperCollins(NZ) Ltd. and is officially released on July 11 2005. price NZ$45.00
Eoin Young.

To read previous columns click on the links below:
1. SCRAPBOOKS and THE EDDIE HALL PHOTO ALBUM MYSTERY
2. GOODWOOD CIRCUIT REVIVAL 2001
3. SPRING RACING IN NEW ZEALAND
5. "CHASING THE TITLE"- A 'must-read' book...
8. NEW BOOKS, PRESCOTT AND GOODWOOD 2002
10. CLASSIC RACERS, FORZA AMON! and COLIN CHAPMAN
11. MY NEW BOOK... & BERNIE'S NEW BOOK
12. SELLING AT GOODWOOD AND BUYING AT BEAULIEU
13. TARGA NEW ZEALAND, BRABHAM ON SCHUMACHER, AMON ON CLARK
15. PUSHING BUTTONS; F1 DRIVER SHUFFLES
17. EXCITING COLLECTION OF PHOTOGRAPHS IN WARSAW
20. "FORZA AMON" COLLECTOR'S EDITION
21. DURANT RECORD BREAKING RUN
---
Eoin Young is a New Zealander who left a bank job to join Bruce McLaren and help set up his racing team. More or less. He arrived in the UK in 1961 as a freelance journalist, covered the Formula Junior season with Denny Hulme, joined McLaren in 1962. Founder director of team. Established Motormedia 1966. Started weekly "Autocar" diary page in 1967 -- it ran until 1998. Covered CanAm, Indy and GP series. In 1979 established as a dealer in rare motoring and motor racing books and ephemera. Still trading with regular lists. Autobiography "It Beats Working" published in 1996. with its sequel "It Still beats Working" in 2003. After more than three decades based in the UK he has now returned to his native New Zealand.

The stock of Motor racing books and ephemera is constantly changing. Click here to view the current catalogue.