www.eoinyoung.com
Eoin Young's Collector's Column no. 29
Frank Gardner- live on stage!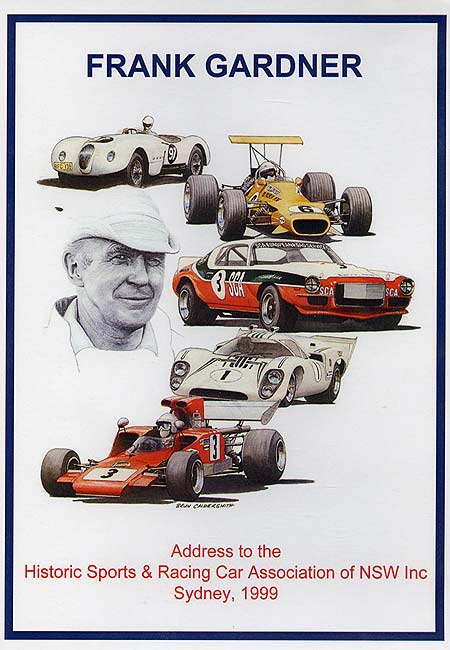 The Aussies have produced an absolutely superb DVD featuring a dapper Frank Gardner in blazer and flannels – no sign of the ubiquitous towelling hat! – on stage in Sydney in 1999. There is an MC who prompts from time to time but it's an incredible 95-minutes of pure Gardner at his laconic best. I loved it and I know you will too. It's one long laugh and never mind that you might have heard one or two of the tales before. They're folklore, part of our racing heritage, after all. When Porsche couldn't find a German driver brave enough to drive the prototype 917 Porsche in the 1000 Kilometres at the old Nurburgring in 1969, they signed Frank and David Piper. "David stopped after one lap and said he was too young to die, so I drove the rest of the race." They finished 8th. "That night Porsche gave me a leather suitcase full of Deutschmarks…and an Iron Cross!"

Frank was an absolutely wonderful as a stand-up raconteur. When the Aussie MC asked about Paul Hawkins, Frank said "Like Gilles Villeneuve, you knew that Paul wasn't going to die in bed…" Frank died in his bed in August 2009.

Of the Mark 2 Ford GT, Frank said it had a 4-speed gearbox and would do 250mph at Riverside. "Low gear was good for 85mph, second to 140mph and third took you close to 200mph…then you could poke it into top and it would accelerate away!"

I thoroughly recommend this DVD and at only $A20 plus post, it's the motor-sporting bargain of the century. Order direct from Marc Schagen on mschagen@bigpond.net.au
To read previous columns click on the links below:
1. SCRAPBOOKS and THE EDDIE HALL PHOTO ALBUM MYSTERY
2. GOODWOOD CIRCUIT REVIVAL 2001
3. SPRING RACING IN NEW ZEALAND
5. "CHASING THE TITLE"- A 'must-read' book...
8. NEW BOOKS, PRESCOTT AND GOODWOOD 2002
10. CLASSIC RACERS, FORZA AMON! and COLIN CHAPMAN
11. MY NEW BOOK... & BERNIE'S NEW BOOK
12. SELLING AT GOODWOOD AND BUYING AT BEAULIEU
13. TARGA NEW ZEALAND, BRABHAM ON SCHUMACHER, AMON ON CLARK
15. PUSHING BUTTONS; F1 DRIVER SHUFFLES
17. EXCITING COLLECTION OF PHOTOGRAPHS IN WARSAW
20. "FORZA AMON" COLLECTOR'S EDITION
21. DURANT RECORD BREAKING RUN
29. FRANK GARDNER LIVE ON STAGE!
---
Eoin Young is a New Zealander who left a bank job to join Bruce McLaren and help set up his racing team. More or less. He arrived in the UK in 1961 as a freelance journalist, covered the Formula Junior season with Denny Hulme, joined McLaren in 1962. Founder director of team. Established Motormedia 1966. Started weekly "Autocar" diary page in 1967 -- it ran until 1998. Covered CanAm, Indy and GP series. In 1979 established as a dealer in rare motoring and motor racing books and ephemera. Still trading with regular lists. Autobiography "It Beats Working" published in 1996. with its sequel "It Still beats Working" in 2003. After more than three decades based in the UK he has now returned to his native New Zealand.

The stock of Motor racing books and ephemera is constantly changing. Click here to view the current catalogue.