www.eoinyoung.com
Eoin Young's Collector's Column no. 9
Fixing Formula One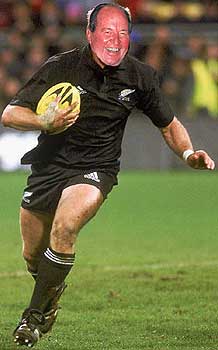 Amon Answers
The recent column photograph on pitpass.com of my good self in my prime as an All Black rugby player (with mild computer enhancement by Mr Editor Balfe) has aroused worldwide comment, not least from Christopher Arthur Amon, formerly Grand Prix works driver with Ferrari, Matra and all points south. He writes: "Very impressed with the photo of you in action on the field, a credit to you at your age, which leads me to think that as a family we may be able to assist. Our son James is doing a degree in sports management with a view to becoming a personal fitness trainer and so it occurs to me that there could be two positives were you to engage him as your personal trainer: I'm reasonably confident that you could use all the help you can get. From his point of view it would make any project he tackled in the future, seem like an absolute doddle."
F1 Futures
At a time of crisis when the highest in the land have their heads together and hands wringing, trying to come up with a recipe for getting F1 folk to switch on their TV sets again, Peter Renn has been canvassing members of his Splendid Whizzer Association for ideas that might be forwarded to Max and Bernie.
Cath Roberts suggests that, from a feminine point of view, tyre changes should be effected as real people have to do them.
"Tyre changes should be performed by the drivers at the side of the track rather than in the pits. They should be using a buckled jack, a specially-designed collapsible jacking point, wheel nuts that have been tightened using an air wrench set to maximum by some 12-year-old at Kwik-Fit, in the pouring rain; and whilst wearing a short skirt and high heels. That should sort 'em out" Quite, Cath.
Ms Roberts goes on to suggest F1 ice racing as an alternative and to gain all-year competition for the teams who, one assumes, are leaning on their computerised hoes during the winter off-season in Europe and would just love to have more work.
"Yesss!!! Freeze Silverstone over. Let's face it, it's been engulfed in torrential downpours and/or assaulted by a wind that's come straight off the Ural Mountains (via Snetterton) every time I've been there regardless of the time of year. Any driver who completes two consecutive laps with an unchallenged lead has to pull in and let Bernie drive the next five laps. That should make things less of a Schumacher parade." Thanks, Cath. Bernie will be in touch, I'm sure.
Mr Renn's personal contributions to the Great Debate include:
"Wings must be retained because we're told that they are valuable advertising space for sponsors. OK, but run them the other way up/round, so that the faster the car goes, the less downforce (and more upforce!) it delivers. That should test the driver skill/ bravery a bit.
If we can't ban launch/traction control, etc., then OK, keep them, but Bernie gets the master remote control device (sometimes I suspect he already has).
Refuelling not outlawed but has to be done at the motorway filling station nearest to the circuit and paid for by credit card before leaving.
To make it a true team sport, all F1 cars have to be two-seaters with the controls divided between them, thus Schumacher steers while Barrichello works the pedals (Jean Todt can continue to do everything else, though).
Get rid of the overbridge at Suzuka and make it a four-way junction as in the centre of Bookham.
Run the British Grand Prix through the centre of Bookham."
Mystified readers at the further ends of the world, should know that Mr. Renn and my good self are based in the Surrey village of Bookham, and if his Point 6 is taken up by the FIA, I am now registering my intention to take over the Royal Oak public house for the race weekend; Gail thinks I already have most days, anyway. No change there, then.
You should know that the aforementioned Mr Renn is the accomplished architect of this website catalogue as well as being a motoring enthusiast with an XJ6 Jaguar as his daily driver and an MG Midget for when the sun shines in Surrey. He is on the tallish side (known as, among other titles 'Two Metre Peter') so entry to the MG is something of a fold-up operation. His Splendid Whizzer Association is an international group of like-minded folk with a jealously guarded membership list. - www.splendidwhizzers.com
Vintage Speed
I had always heard tales of this cantankerous old Kiwi who made a vintage Indian motorcycle perform amazing feats on the Bonneville salt flats but I have now discovered the amazing stories of derring-do as Burt Munro, in his high sixties, was persuading a 1920 Indian to flirt with 200mph on the historic record making and breaking salt flats! George Begg, himself a hands-on, can-do motor racing engineer and car-builder from the southern end of New Zealand (as was Munro) has written a fascinating biography: "Burt Munro: Indian Legend of Speed."
Burt died in 1978, aged 78, but he is still remembered at Bonneville as the amazing old guy who lived out of whatever car he had been able to buy on arrival for $50 or so, and use as a tow car for his streamlined motorcycle. You should know that Munro didn't copy accepted aerodynamics; he scooped his shape from a goldfish, fascinated at its smooth, swift passage around the aquarium!
His ancient Indian seems to have been like the proverbial Maori's axe, having had several new heads and several new handles but basically he was attacking 1970s records with a motorcycle that was half a century old. Burt Munro and Denis Jenkinson would have hit it off well. Both were individualists, both spoke their mind, and both lived with their machinery. Jenks had his motorcycles and the odd vintage car chassis in the front room of his cottage if he wanted to carry on working in the winter. Burt reversed the process and lived in his double garage, renting out his house to fund his unusual lifestyle and speed hobby! He did all his own major engine building and repairs, using whatever came to hand; including a gutter down-pipe at a motel to cast up a new cylinder for the Indian on one occasion! His blow-ups were almost as spectacular as his rebuilds.
Sit in on a 1963 interview with Drag News in the U.S.: "First time today was 183.667 mph. I was taching over 190 when the rod busted. I was breaking traction and getting a little valve float and she finally broke the front rod. This shattered the cylinder and punched the two tappets and guides and push rods out the front. The cam followed the tappets and guides so hard that they riveted over and punched out the case. New ones I'd just made too"
Burt and his bikes didn't always stay together. In 1959 he was racing his 'other' bike, a much-modded Velocette and he challenged some mates to a sprint around Teretonga circuit. The events were described by Ossie Bullman: There was a mighty blast from the megaphone exhaust as Burt swept by going at least 20 mph faster than me. His old pudding basin helmet on a light tee shirt, the old ex army trousers flapping in the wind and the sneakers he always wore when sprinting. Then the bike veered to the side of the track and Burt, no stranger to these situations, just bailed out as he knew it would only get worse if he stayed on the bike. He was right. The bike bounded 30 ft in the air and when it got to the rough side of the circuit, proceeded to demolish itself with the rear wheel going one way and the rest going the other. Burt tumbled, skidded and rolled till he eventually came to a halt with bits of the bike scattered around him. It looked a most horrific smash. Burt was lying there unconscious, covered in blood, arm broken, skin off his arms and body, tattered shreds of clothing, split crash helmet and altogether a right mess. The front of his wrist-watch was even ground off by the track. After a short time, much to the relief of his friends, Burt came to, and his first words were "I beat you young buggers", then, "Gee, my arm hurts. Where's my bike?" He was told "Scattered all over Teretonga Park, Burt". Burt's reply was: "Well, you two gather up the bits, chuck them in our truck and take them to your place and Duncan will take me to hospital".
This is a book that was an immediate sell-out at $NZ 50, mainly because Begg had made it a self-publishing labour of love in an edition of only 300 copies, a record of an amazing motorsport person that he had taken upon himself to put between covers. Now there is a reprint of another 100 copies available from Gavin Bain at Fazazz, P.O. Box 22-642, Christchurch, NZ. Fax +64 33 666 244. A recommended read if you can hang in there until Burt gets to the States for the first time! Jenks would have loved it. Burt was his sort of bloke.

Eoin Young.
To read previous columns click on the links below:
1. SCRAPBOOKS and THE EDDIE HALL PHOTO ALBUM MYSTERY
2. GOODWOOD CIRCUIT REVIVAL 2001
3. SPRING RACING IN NEW ZEALAND
5. "CHASING THE TITLE"- A 'must-read' book...
8. NEW BOOKS, PRESCOTT AND GOODWOOD 2002
10. CLASSIC RACERS, FORZA AMON! and COLIN CHAPMAN
11. MY NEW BOOK... & BERNIE'S NEW BOOK
12. SELLING AT GOODWOOD AND BUYING AT BEAULIEU
13. TARGA NEW ZEALAND, BRABHAM ON SCHUMACHER, AMON ON CLARK
15. PUSHING BUTTONS; F1 DRIVER SHUFFLES
17. EXCITING COLLECTION OF PHOTOGRAPHS IN WARSAW
20. "FORZA AMON" COLLECTOR'S EDITION
21. DURANT RECORD BREAKING RUN
29. FRANK GARDNER LIVE ON STAGE!
---
Eoin Young is a New Zealander who left a bank job to join Bruce McLaren and help set up his racing team. More or less. He arrived in the UK in 1961 as a freelance journalist, covered the Formula Junior season with Denny Hulme, joined McLaren in 1962. Founder director of team. Established Motormedia 1966. Started weekly "Autocar" diary page in 1967 -- it ran until 1998. Covered CanAm, Indy and GP series. In 1979 established as a dealer in rare motoring and motor racing books and ephemera. Still trading with regular lists. Autobiography "It Beats Working" published in 1996. with its sequel "It Still beats Working" in 2003. After more than three decades based in the UK he has now returned to his native New Zealand.

The stock of Motor racing books and ephemera is constantly changing. Click here to view the current catalogue.