www.eoinyoung.com
Eoin Young's Collector's Column no. 21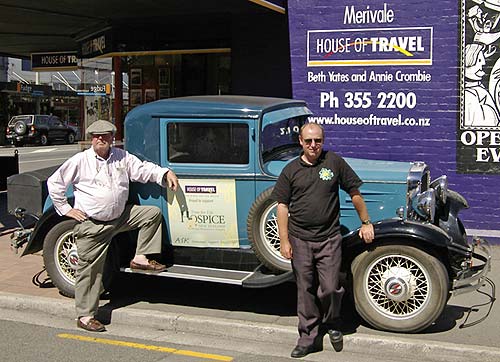 photo: Terry Marshall
Wellington-Auckland historic drive for charity
On the morning of Tuesday March 14 at 8am, two intrepid motorists in a 1930 Durant rumble-seat coupe will be flagged away from the Wellington Post House on Waterloo Quay by Harry Duynhoven, Minister for Transport Safety. They will be making a charity challenge on the outright record set by another Durant, 83 years earlier to the day. In 1923 the Durant drivers took 15 hours 25 minutes. In 2006, Durant driver Tony Haycock thinks he may be able to improve on this in his distinctive bright blue coupe, even though he will forsake the modern 800-kilometre SH1 trip and follow the old route, targeting House of Travel offices along the way collecting for designated charity, Hospice New Zealand.
Euromarque, Christchurch Alfa Romeo and Fiat dealer, is funding fuel for the 'record run'.
George Campbell and Leslie Bedford shared the Durant that took the Wellington-Auckland record all those years ago. The Durant was made by William C. Durant, the pioneer of the American auto industry who founded Buick and Chevrolet, formed General Motors, and eventually made cars under his own name.
Tony Haycock, a consultant at House of Travel in Merivale, Christchurch, has been a Durant enthusiast since he was six, when his father brought a Durant back home to Bulls. He owns three Durants and has shares in the remains of several more.
Co-driver and navigator is Christchurch-based Eoin Young, motor sporting writer, author and founder-director of Bruce McLaren's racing team in Britain in 1963. Young is a columnist and feature writer for New Zealand Classic Car. He will be signing copies of his latest book – McLaren Memories – for charity donations. "In 1961 I flew from Luton to Tasmania in a single-engined Cessna 180. This will be a similar sort of motorised adventure!"
Route for the original 1923 record runs through Foxton, Sanson, Bulls, Wanganui, Hawera, Waitara, Te Kuiti, Te Awamutu, Hamilton and Auckland and Haycock and Young will be following this in the 1930 Durant.
Haycock estimates that his Durant run will be completed in daylight hours.
Wellington-Auckland record run
We did it! On March 14, 1923, George Campbell and Leslie Bedford set out from Wellington Post Office in a stripped-down Durant to set a speed record on the 481-mile run to Auckland. On the same day 83 years later, Tony Haycock and I set out in his distinctive blue 1930 Durant Six rumble-seat coupe to challenged that original record. It was more in the manner of a wizard vintage motoring adventure than any form of speed record attempt and to this end, and because Haycock is a travel consultant, we were sponsored by House of Travel for their official charity, Hospice NZ, and made several charity stops at HoT offices on the route. Unofficial nod of approval for the run came with Minister of Transport Safety, Harry Duynhoven, dropping the flag to start us from the NZ Post headquarters on Waterloo Quay on the stroke of 8.09am. Minister Duynhoven is a motoring enthusiast with what he reckons to be the oldest Porsche 356 in New Zealand. "I swapped it for my supercharged VW Beetle when I was 19," he says.
We were also sponsored by Christchurch Alfa Romeo and Fiat dealers, Euromarque, Interislander ferries and handsome jackets embroidered with our Durant record attempt details were provided by Canterbury CCC.
The 76-year-old Durant never missed a beat and we arrived in the Auckland dusk at 8.09pm – exactly 12 hours for the long run, and beating our 1923 opposition by 3 hours and 25 minutes.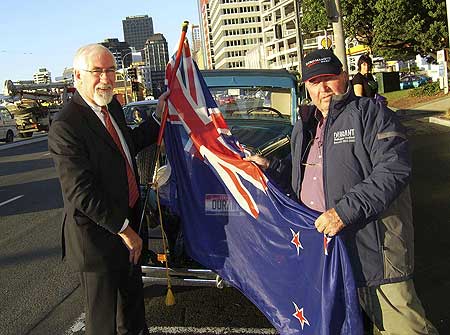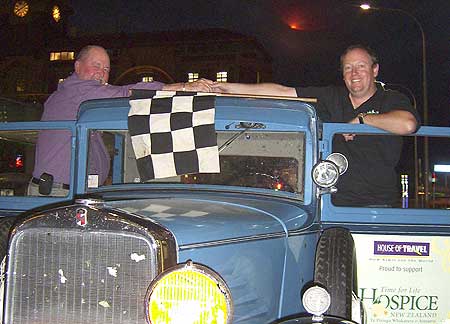 To read previous columns click on the links below:
1. SCRAPBOOKS and THE EDDIE HALL PHOTO ALBUM MYSTERY
2. GOODWOOD CIRCUIT REVIVAL 2001
3. SPRING RACING IN NEW ZEALAND
5. "CHASING THE TITLE"- A 'must-read' book...
8. NEW BOOKS, PRESCOTT AND GOODWOOD 2002
10. CLASSIC RACERS, FORZA AMON! and COLIN CHAPMAN
11. MY NEW BOOK... & BERNIE'S NEW BOOK
12. SELLING AT GOODWOOD AND BUYING AT BEAULIEU
13. TARGA NEW ZEALAND, BRABHAM ON SCHUMACHER, AMON ON CLARK
15. PUSHING BUTTONS; F1 DRIVER SHUFFLES
17. EXCITING COLLECTION OF PHOTOGRAPHS IN WARSAW
20. "FORZA AMON" COLLECTOR'S EDITION
21. DURANT RECORD BREAKING RUN
---
Eoin Young is a New Zealander who left a bank job to join Bruce McLaren and help set up his racing team. More or less. He arrived in the UK in 1961 as a freelance journalist, covered the Formula Junior season with Denny Hulme, joined McLaren in 1962. Founder director of team. Established Motormedia 1966. Started weekly "Autocar" diary page in 1967 -- it ran until 1998. Covered CanAm, Indy and GP series. In 1979 established as a dealer in rare motoring and motor racing books and ephemera. Still trading with regular lists. Autobiography "It Beats Working" published in 1996. with its sequel "It Still beats Working" in 2003. After more than three decades based in the UK he has now returned to his native New Zealand.

The stock of Motor racing books and ephemera is constantly changing. Click here to view the current catalogue.