www.eoinyoung.com
Eoin Young's Collector's Column no. 26
Scribe's wall of fame.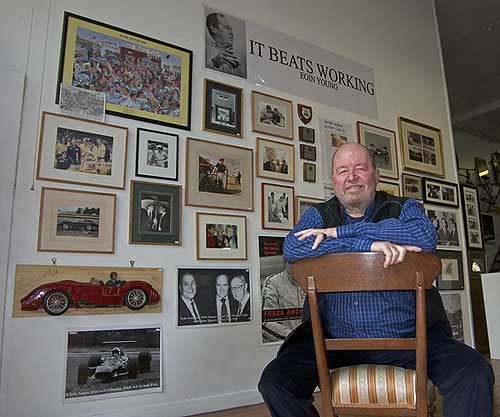 If you have a few minutes to spare at lunch time or at the weekend, there is a new, albeit temporary, motor racing monument in Christchurch that really is worth taking a look at, says DAVE MOORE.One of motor racing's most famous and well-loved personalities is New Zealand's Eoin Young. This is despite him being the driver of a keyboard rather than a car, and a chaser of deadlines rather than chequered flags. Simply put, he has been at the professional pinnacle of motor-racing journalism in general and Formula One in particular, through the better part of five decades.
Young is still perhaps better known in his formerly adopted Britain than he is in New Zealand, although after several years of semi retirement in Christchurch, his irrepressible charm and generosity conspire with his love of entertaining mates and acquaintances to ensure something is being done about that.
The semi part of retirement is because over the past two years or so, Young has produced six books and he would be too modest to agree with those of us in the trade that they represent his best work ever. He also supplies a delightful column for the local Bay Harbour News communitynewspaper and is a regular in New Zealand Classic Car magazine. The Press recently published Young's 450th- and last, he says Grand Prix report from the Melbourne Formula One event. After an absence of some years, Young has even returned as a feature writer to the pages of that revered United States car magazine, Road and Track, with a huge piece in its July edition. This was such a surprise that one avid fan spotted his picture at the start of the story and assumed it was an obituary. "I thought you were dead, mate", came the email. And Young isn't. Not by a long chalk, and judging by the hundreds who turned out at the signing of his latest work Memories of the Bear, the story of Kiwi F1 legend Denny Hulme, a sufficient number of fans realised the man is very much alive and producing.
To form a backdrop to Young's book-signing, which took place at Christchurch's amazing automotive cornucopia, Fazazz, owner Gavin Bain created a wall of photographs, adding his own tribute to the man.
To find it you will have to fight your way past glorious classic cars and motorcycles, most of them for sale. You will also be distracted by books, models, paintings, posters, memorabilia, creaking floorboards and whatever racing video is playing in the Lichfield Street store, which is the only central business district based motorists' toyshop anywhere in the world. However, it will be worth getting there in the end.
Gavin Bain explains: "Eoin became friends with the top drivers, mechanics and team owners of the '60s, '70s, '80s and '90s. When it was decided to have the launch of Eoin's latest book at Fazazz, it seemed appropriate to showcase the remarkable career of this motoring wordsmith." And with 450 Grands Prix under Young's belt, there is no shortage of stories.
One wall at Fazazz has been devoted to the display of some of Young's souvenirs. There are photographs signed and dedicated to Young from world champions, several plaques from the Guild of Motoring Writers for outstanding motor sport coverage, photographs with film stars, with Indy 500 winners, with drivers of all eras and with Enzo Ferrari. A youthful Young is pictured in London in 1964 with an equally young Bruce McLaren and Chris Amon, while other photos depict some of the fabulous cars he has track tested over the years.
Bain says that the display at Fazazz will remain in place for some timeand all enthusiasts are invited to view it. It's also worth mentioning that Memories of the Bear is on sale at Fazazz for NZ$49.99.
To read previous columns click on the links below:
1. SCRAPBOOKS and THE EDDIE HALL PHOTO ALBUM MYSTERY
2. GOODWOOD CIRCUIT REVIVAL 2001
3. SPRING RACING IN NEW ZEALAND
5. "CHASING THE TITLE"- A 'must-read' book...
8. NEW BOOKS, PRESCOTT AND GOODWOOD 2002
10. CLASSIC RACERS, FORZA AMON! and COLIN CHAPMAN
11. MY NEW BOOK... & BERNIE'S NEW BOOK
12. SELLING AT GOODWOOD AND BUYING AT BEAULIEU
13. TARGA NEW ZEALAND, BRABHAM ON SCHUMACHER, AMON ON CLARK
15. PUSHING BUTTONS; F1 DRIVER SHUFFLES
17. EXCITING COLLECTION OF PHOTOGRAPHS IN WARSAW
20. "FORZA AMON" COLLECTOR'S EDITION
21. DURANT RECORD BREAKING RUN
---
Eoin Young is a New Zealander who left a bank job to join Bruce McLaren and help set up his racing team. More or less. He arrived in the UK in 1961 as a freelance journalist, covered the Formula Junior season with Denny Hulme, joined McLaren in 1962. Founder director of team. Established Motormedia 1966. Started weekly "Autocar" diary page in 1967 -- it ran until 1998. Covered CanAm, Indy and GP series. In 1979 established as a dealer in rare motoring and motor racing books and ephemera. Still trading with regular lists. Autobiography "It Beats Working" published in 1996. with its sequel "It Still beats Working" in 2003. After more than three decades based in the UK he has now returned to his native New Zealand.

The stock of Motor racing books and ephemera is constantly changing. Click here to view the current catalogue.