www.eoinyoung.com
Eoin Young's Collector's Column no. 10
Classic Racers, Forza Amon! and Colin Chapman

I'm putting the finishing touches to not one, but two books due out next year. The first, "CLASSIC RACERS - New Zealand's Grand Prix Greats" is due to be launched in February during the Southern Festival of Speed, and the second is my biography of Chris Amon which has the working title of "Forza Amon" and is due in September. Writing the few words that make up the title is always the most difficult part of writing the whole book, in my experience and I think the touch of Italian enthusiasm gives the reader the honorary title of tifosi while re-living Chris's three seasons as leader of the Ferrari Grand Prix team. In fact this Forza title fell upon me while reading thread leader Keir's entries in the Chris Amon nostalgia listing on Atlas F1.com.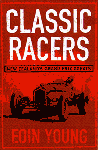 "Classic Racers" is a collection of feature profiles on racing drivers and cars from New Zealand racing history, many never written about between hard covers before. Bruce McLaren, Denny Hulme and Chris Amon are staple diet, but there are also chapters on Howden Ganley, Ron Roycroft, Ross Jensen, Tom Clark, Johnny Mansel, Ernie Sprague, and C.W.F. (Bill) Hamilton, who invented the jet boat - and also drove in the record books winning three races in one day at Brooklands in his Bentley. There are also features on the indigenous Stanton Special and the Lycoming Special, both aero-engined but as different as chalk and cheddar. Plus the P3 Alfa Romeo that Nuvolari drove to win the 1935 German GP on the Ring and which ended its racing days in New Zealand. Also the 375 GP Ferrari V12 which Froilan Gonzales drove to win the first Grand Prix for Ferrari at Silverstone in 1951. When the book is published I will be offering signed copies to web site catalogue customers, so form an orderly queue! See the Books page for more information and a review..
Mike Lawrence's latest book is "Colin Chapman - Wayward Genius." It certainly made my Qantas flight seem a good deal shorter en route to New Zealand.

Mike is in the fortunate position of being a contemporary motor racing historian and while he never explored the accepted route and went to every GP to be able to be a part of the fortnightly fight for cash and glory (on account of being an academic and away in hallowed halls becoming a chap of letters) he has been able to meet and work with the people of the immediate past away from the field of battle and find out the stories of what 'really happened'. Thus he has had the knowledge and the time to write definitive books on Ron Tauranac and thus the Brabham team, Cooper, March Engineering and all the machinations therein, plus a dozen or so other titles set in and around the worldwide village of motorsport. He is a man with an eye for a fact that others may not have dared to point out and since he owes no paddock favours, he is uniquely positioned to tell like it was.
If you're a fan dedicated to the Lotus legend and inclined not to listen to any of the many and startling stories about Colin Chapman, since his untimely death, or are a Lotus owner of a nervous disposition, I implore you DO NOT READ THIS BOOK. If, on the other hand, you're like me and can't resist a good dig around in the foundations of what we were told could, possibly, have been facts, plus a few well-placed tugs at the hem of the Leader's garment, get a copy as quick as you can.
Legend grows over legend with Lotus. I wanted to get to the bit where Fergy (team manager Andrew Ferguson) hid the Indy cars in 1969 after an argument with Andy Granatelli. Mike says Fergy found a family garage 40 miles from Indianapolis and tucked them away where Andy couldn't find them. I prefer the story I heard: "Fergy was desperate to find a garage unit to hide the cars (read the book to find out why) and it was dark before he was told about a small factory unit that was available short term at a cheap rental. But when the coast had cleared and Fergy could go back to get the cars he was appalled to realise that they were rusty - and discovered that the reason for the modest rent was that the roof was sagging in, something he hadn't noticed in the dark!" Shame that Andrew isn't about to tell us which story was the right one. Read his book on the Lotus Indianapolis years.
I grew up in Formula 1 as a mate of Bruce McLaren and enjoyed long, late coffee avec cognac evenings with John Cooper in GP cities around Europe, and so Colin Chapman was inevitably "the opposition' and I never got to know him very well, except in passing. Mike sparks memories of things we took for granted, like the transporter races in 1970 as the mechanics battled back to Northampton from whichever corner of Europe the race had been, to get a good place in the Cosworth service queue. He also points out things that had quite simply never occurred to me, such as that Jackie Stewart's win in the 1970 Spanish GP in Ken Tyrrell's March 701 was the last GP win by a private entrant - and I owned that very car a few years later! I suppose the obvious is really too obvious.
Intriguing facts and comparisons are laced into the narrative: Chapman was awarded the CBE in 1970 at age 42; at 42, Enzo Ferrari had yet to make his first car. When Emerson Fittipaldi became the youngest driver ever to win the world title in a Lotus, his team-mate, Dave Walker, failed to score a single point. The Lotus 'Eleven' was never known as the Lotus XI, and every Lotus road car thereafter started with an 'E'. Stuff like that.
Lawrence points to the Jensen-Healey with Lotus engine as a loser. "It was a decent car, but every successful sports car has just a touch of indecency about it. It was hard to think of a good reason for preferring a Jensen-Healey to a Triumph TR6, which was flawed but hairy-chested."
Lotus build quality problems were sometime difficult to diagnose, such as when composite body panels were not being cured properly. It was discovered that some of the workers had been opening the autoclave door to heat their lunchtime pies!
Lawrence rides boldly into the Chapman/ DeLorean fracas. "Charmer and chancer met charmer and chancer and there was a challenge." He addresses all sides of the cloudy situation and reminded me of being telephoned by the American magazine Autoweek for whom I was then writing an F1 column, and asked to interview Chapman at Watkins Glen about his part in the proposed DeLorean car deal. It was not at all my scene, but I knocked diffidently on the door of the JPS motor-home and requested an interview. Colin was affability-plus, answering all my questions. But how, I asked, can you take all this Government money to develop a car that will be in direct competition to your own Lotus sports cars? "Oh, it'll never work, and the Government wants to give the money to someone so it might as well be us!"
The erudite author wonders why the Lotus 86 and 88 were called "twin chassis" cars when "the word 'chassis', like 'sheep' or 'deer' is both a singular and a plural." That's the sort of thing I wish I'd said, but you can be sure I will"
Chapman is both praised to the skies for the brilliance of his idea and designs, hung out to dry for the way he commandeered the ideas of others on an on-going basis, and also for the financial deals that would have seen him behind bars, but for the fatal heart attack that took him in 1982. Lawrence, does, however - apart from chronicled minor misdemeanours in the early days - insist that Chapman was never interested in breaking the rules. "He was only interested in being ahead of the rules."
"Colin had played so important a part in the lives of so many people that some were reluctant to believe that his life was snuffed out by something as mundane as a heart attack." Be very sure that a man with as many fascinations as Colin Chapman will not come this way again in motor racing.
Modesty blaze!
Modesty almost forbids me to mention that in the contributor's biog details on the dustwrapper of Gerry Donaldson's amazing glossy new tome "Formula 1 - The Autobiography" I get a mention as "One of the sport's first media celebrities" for writing columns just such as this one for more years than I care to remember. And I understand that Maurice Hamilton dedicated his definitive biography on Ken Tyrrell, to me which I presume is to remember the good old days when he was just starting out and had sort of apprenticed himself to me when I was working with Elf on the Tyrrell sponsorship and we became a part of the extended Tyrrell Team on Tour for several amazing summers in the days when drivers drove the cars they won in, they didn't have a phone-a-friend help-line to the pits, and they were still people who were mates with their competitors before and after the race. During the race was always different, but the cars were unsafe enough to discourage contact with each other or the scenery and the money was attractive rather than bordering on the numbers that make squillionaires of Herr Schumacher's little lads, and threaten the very existence of the cellar dwellers on the grids these days!

Eoin Young.
To read previous columns click on the links below:
1. SCRAPBOOKS and THE EDDIE HALL PHOTO ALBUM MYSTERY
2. GOODWOOD CIRCUIT REVIVAL 2001
3. SPRING RACING IN NEW ZEALAND
5. "CHASING THE TITLE"- A 'must-read' book...
8. NEW BOOKS, PRESCOTT AND GOODWOOD 2002
10. CLASSIC RACERS, FORZA AMON! and COLIN CHAPMAN
11. MY NEW BOOK... & BERNIE'S NEW BOOK
12. SELLING AT GOODWOOD AND BUYING AT BEAULIEU
13. TARGA NEW ZEALAND, BRABHAM ON SCHUMACHER, AMON ON CLARK
15. PUSHING BUTTONS; F1 DRIVER SHUFFLES
17. EXCITING COLLECTION OF PHOTOGRAPHS IN WARSAW
20. "FORZA AMON" COLLECTOR'S EDITION
21. DURANT RECORD BREAKING RUN
29. FRANK GARDNER LIVE ON STAGE!
---
Eoin Young is a New Zealander who left a bank job to join Bruce McLaren and help set up his racing team. More or less. He arrived in the UK in 1961 as a freelance journalist, covered the Formula Junior season with Denny Hulme, joined McLaren in 1962. Founder director of team. Established Motormedia 1966. Started weekly "Autocar" diary page in 1967 -- it ran until 1998. Covered CanAm, Indy and GP series. In 1979 established as a dealer in rare motoring and motor racing books and ephemera. Still trading with regular lists. Autobiography "It Beats Working" published in 1996. with its sequel "It Still beats Working" in 2003. After more than three decades based in the UK he has now returned to his native New Zealand.

The stock of Motor racing books and ephemera is constantly changing. Click here to view the current catalogue.