www.eoinyoung.com
Eoin Young's Collector's Column no. 13
Team Grandad on the Targa New Zealand.
Mike John's Targa New Zealand goes from strength to strength, a cussed 2000 km Kiwi endurance event that combines the best and worst of rallying and racing and rewards tenacity, although I sometimes wondered during the six-day slog in October whether there were only two cars in the 200-car field really going for the win. Aussie Tony Quinn came out on top in his late-model 4-wheel-drive turbo Porsche from Aucklander Anton Tallett in a 1992 Mazda RX7. The rest of the runners were doing their best to last out the six days.
For my money the event was five days too long. I rode with Allan Walton, the editor of "New Zealand Classic Car" as nominal co-commentator on the event with the suitably loquacious Donald McDonald, so good they named him twice. He seldom paused to draw breath so my time at the mike was suitably brief. Most of the entrants were there for the taking part, somehow getting enjoyment from working all the hours God gave to stay mobile from one day into the next for a week, and driving as hard as they were able between times.
Mike John runs the event like a fiefdom on wheels which I suppose it is. Like him or loathe him ? and there seemed to be a fair measure of each view among the competitors -- they queue to pay him for a place in the lineup next year. Must be the cold shower syndrome. It is a massive operation with around 1400 folk on the move around the North Island, all needing to be fed and bedded at the night stops, and all needing to be whipped into line during the run to try and keep the long event to time. Some of the local burghers along the route might have whinged but the rolling army paid handsomely into the local economies as they went through. Chris Amon had been tempted back into a racing uniform for the first time since he walked away from the world of formula 1 in 1976 to be forgotten as a farmer in Bulls, when he was offered the chance to drive a works-prepared Toyota Camry Sportivo with Murray Walker. Incredibly, the pair had never met, their careers in F1 having mis-cued. I suppose it was a measure of the damning Kiwi tall-poppy syndrome that the sponsor's media service soon ignored the famous pair, the only 'names' in the event. Having stayed away from anything resembling a return to motorsport, Chris was hugely enthusiastic about the Targa and even wondering whether Toyota might consider providing something a little more competitive than the Camry for next year's event. They were known as Team Grandad with a total age of 140 years! Chris was 60, Murray 80!
At one stop, Chris was asked by a fan if he would sign his bare arm. It used to be young ladies asking Chris, the famous Ferrari team leader, the Michael Schumacher of the late '60s, to sign various parts of their anatomy in Grand Prix paddocks the world over. I watched him sign. And the guy rolled up his sleeve to reveal a Ferrari prancing horse shield tattooed in colour on his shoulder. Maybe he'll never wash that arm again. Someone else suggested that he'll have the Amon signature tattooed in!
Murray was fascinated by the quaint Kiwi tradition of Throwing the Gumboot at Taihape (say it: Tie-happy) and he and Chris both tried their hand. More practice would obviously help. I was more fascinated by the two guns as what I thought might have been wall decoration behind the bar in the local main street saloon. But they were both double-barrel shotguns, padlocked to the wall, presumably to quell local late-night uprisings!
I was intrigued to watch each Targa driver being breathalysed at the start each day. Not something I'd ever though about but necessary, I guess. They used to say that if they had been able to breathalyse the Grand Prix grid in the 1950s there would have been a few technical non-starters. A swift brandy was reckoned to be worth a second off your practice time in those days of yore.
At the final Sunday morning prizegiving breakfast in the old town hall in Wellington, I heard a Mustang driver tell of his battle back up the field after early adversity. He said he remembered the old adage "If you're in a hurry, drive it like a rental!" Reminded me of the announcement of a new Group N series for showroom stock saloons in South Africa some years ago. Apparently Hertz and Avis weren't ready for the number of inter-staters who hired VW Golfs in Johannesburg for the weekend and returned them with tyres in tatters and the engines breathing heavily. They had been whipping the hubcaps off , slapping race numbers on, and presenting them for practice at the Kyalami circuit just up the road!
JACK BRABHAM and MICHAEL SCHUMACHER
Sir Jack Brabham was in fine form at functions hosted by the Bruce McLaren Trust in Auckland before his Pukekohe demonstration laps in the Cooper he drove the summer he won the World Championship in 1959. It was said that this was also the car driven in the last race, the US GP at Sebring, when Jack ran out of fuel in his car and pushed home second. There were three works Coopers that season and in those days they switched chassis numbers to suit Customs carnet requirements, so how the car can be pinned down so exactly after all this time beats me. But as Jack says, there is a chance in three that it's the right one. Racing folk that I met at the meet-Jack happenings in Auckland included TT motorcycle winner Rod Coleman and Merv Neil who raced motorcycles and cars in New Zealand in the 1950s. Jack met up again with his old manager, Phil Kerr, who would later switch to McLaren with Denny Hulme in 1968. They compared notes and checked out Don Packwood's splendid painting of Brabham leading McLaren in Coopers at that dramatic 1959 U.S. GP at Sebring.
Jack won three world titles might have won two more (1967 and 1970) but for breakdowns and mishaps, but he stands up and names Michael Schumacher as the best racing driver of all time. I find it hard to agree with this, but JB was there when Fangio was racing, and I wasn't. "I reckon Schumacher's the best there's been so far," Jack told Bob Pearce on "The New Zealand Herald". "Not only because of his driving. Fangio was a good driver too, but Schumacher's been the driving force behind the Ferrari team. He's got a fantastic head on him, more so than Fangio. Schumacher has worked hard to bring the Ferrari team up. Fangio was just a driver!"
Jack couldn't enthuse about modern formula 1 cars, saying that technology has taken all the 'driving' out of the cars. "In my day the cars were exciting to watch, now they look as if they're on a monorail." The Australian V8 touring car races between Holdens and Fords may sound like a two-horse event, but it's high-speed big-noise, amazingly close racing. "It's more exciting than formula 1," said Jack. "If I was 50 years younger, I'd certainly be into it!"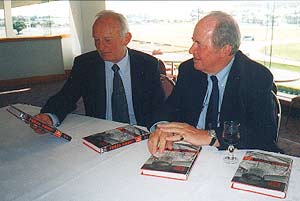 CHRIS AMON and JIM CLARK
In November, former Ferrari F1 team leader Chris Amon took me for a spin on Lake Taupo, the largest fresh-water lake in New Zealand, in his latest toy - a 30-foot Bayliner powerboat fitted with an 8.2-litre V8 good for 47 mph which is stepping right along on water. Amon has sold his farms and is now concentrating on enjoying retirement. My motor racing biography on him ("Forza Amon!") launched at the Goodwood Revival in October and Chris was on hand for a launch luncheon in Christchurch at the end of November.
A major revelation in the book is Amon's version of Jim Clark's fatal crash at Hockenheim in 1968. Chris was driving an F2 Ferrari in the race and was running behind Clark's Lotusbut too far behind in poor conditions to actually see the crash but he saw the tyres from Clark's Lotus some time later and he casts doubt on the official reason given for the accident
blaming the Firestone tyres. Amon is convinced, after hearing an engineer's report of scuff marks on the tyres, that the Lotus had suffered suspension failure.
"I spoke to an engineer who saw all four tyres some time later, after they had been taken off the car, and he said there were large flat spots on the left front and right rear tyres,
indicative of heavy braking. the right front tyre had very light braking-type scuff marks, and the left rear similar but slightly more pronounced. The way those tyres were marked
suggests to me the possibility of something breaking in the left rear suspension. There was also the fact that Jimmy's car had been rear-ended in a shunt soon after the start in theFormula 2 race at Barcelona the previous weekend, and the team hadn't had time to go back to the factory, which could have created situation beyond the control of the crew on the road without factory facilities.
Ferrari's right-hand man, Franco Gozzi, recalls Clark's rear-ending crash that previous weekend in Spain in his book "Memoirs of Ferrari's Lieutenant". Ickx, in the Dino, hit Clark on the second lap, putting him out of the race with a puncture and damaged rear suspension. "I remember with how much determination Clark came to our pits," wrote Franco.
"Tell your driver (Ickx) to calm down," he (Clark) growled furiously "Because driving like that, we'll get hurt." He was right and I asked him to accept our apologies, adding, to conserve a little dignity, "But you English are all the same, you get stuck in, too, but when something happens to you, you get tough." He became even more annoyed. "I am not English, I am Scottish," he replied icily, "And don't you forget it!"
To read previous columns click on the links below:
1. SCRAPBOOKS and THE EDDIE HALL PHOTO ALBUM MYSTERY
2. GOODWOOD CIRCUIT REVIVAL 2001
3. SPRING RACING IN NEW ZEALAND
5. "CHASING THE TITLE"- A 'must-read' book...
8. NEW BOOKS, PRESCOTT AND GOODWOOD 2002
10. CLASSIC RACERS, FORZA AMON! and COLIN CHAPMAN
11. MY NEW BOOK... & BERNIE'S NEW BOOK
12. SELLING AT GOODWOOD AND BUYING AT BEAULIEU
13. TARGA NEW ZEALAND, BRABHAM ON SCHUMACHER, AMON ON CLARK
15. PUSHING BUTTONS; F1 DRIVER SHUFFLES
17. EXCITING COLLECTION OF PHOTOGRAPHS IN WARSAW
20. "FORZA AMON" COLLECTOR'S EDITION
21. DURANT RECORD BREAKING RUN
29. FRANK GARDNER LIVE ON STAGE!
---
Eoin Young is a New Zealander who left a bank job to join Bruce McLaren and help set up his racing team. More or less. He arrived in the UK in 1961 as a freelance journalist, covered the Formula Junior season with Denny Hulme, joined McLaren in 1962. Founder director of team. Established Motormedia 1966. Started weekly "Autocar" diary page in 1967 -- it ran until 1998. Covered CanAm, Indy and GP series. In 1979 established as a dealer in rare motoring and motor racing books and ephemera. Still trading with regular lists. Autobiography "It Beats Working" published in 1996. with its sequel "It Still beats Working" in 2003. After more than three decades based in the UK he has now returned to his native New Zealand.

The stock of Motor racing books and ephemera is constantly changing. Click here to view the current catalogue.