Restoring a Constellation.
Mikey's Camarillo Diary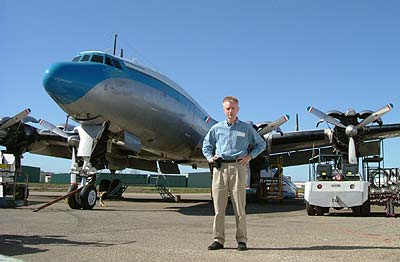 I have always been interested in the Lockheed Constellation since childhood. My enthusiasm was fuelled in my teens by Lanzair's operations out of the UK and by Stephen Piercey reports of their and Quisqueyana's operations in Flight International magazine. Having enjoyed a flight on the MATS Connie out of Geneva in 1998 I was very excited to hear about the formation of the SCFA (Super Constellation Flyers Association) in 2000 and signed up as a member immediately.
Just days before Christmas 2003 I received an email from Francisco Agullo of the SCFA, asking for volunteers - skilled and unskilled - to work on their Super Constellation N73544 to get the aircraft in tip top condition in readiness for its ferry flight to Switzerland on April 26th 2004. I had already turned down an opportunity to fly in the SCFA Connie on all of the stages of the ferry flight from Camarillo to Basle due to time constraints. Currently the flight plan it to depart Camarillo on 26th April routing: Omaha (NE), Manchester (NH), Stephenville (Newfoundland), Keflavik, Prestwick and Le Bourget before arriving at Basle-Mulhouse on 8th May 2004.
I gave Francisco's request carefully consideration which took all of ten seconds and made my decision - I was going to Camarillo to help (in my limited non -technical way) get the last airworthy Super Connie to Europe. I replied to the email saying that although I had no aeronautical skills whatsoever, I did have tons of enthusiasm and a very understanding wife!
5th January 2004
In early January I received a telephone call from Frances, saying I was welcome to visit the N73544 anytime between then and 26th April when it was scheduled to depart California en route to Switzerland. I went into plan mode straight away. Soon I was on the internet checking out flights, accommodation, car hire and the Californian weather. It was 64degC average in January, something we can't imagine in Europe at that time of year.
Saturday 21st February 2004
The big day arrives! I board BA283 LHR - LAX for a ten and a half hour flight. Arrive at LAX in un-typical weather, it's pissing down. Collect my car and crawl at a stop start 30mph for half the 60 mile journey up to Camarillo. Arrive early evening and straight to bed.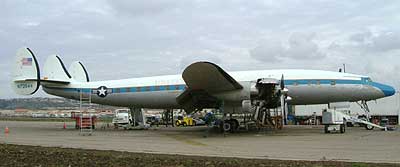 Sunday 22nd February 2004
Pissing down! Went shopping round the local mall and got a few things. Went to the CAF Museum and went on their C46. Photographed it, their
C131, N636X M404 and N396CG(?) CV in poor condition.
Monday 23rd February 2004
Beautiful day! Sunny, hot etc. Drove up/over Santa Barbara along the Pacific Coast Highway listening to The Eagles and Steely Dan, felt natural! SB was very pleasant, went for a long walk along the sea shore to the harbour. Then some shopping and the Maritime Museum which was actually very good. Nice club sandwich outside in a restaurant but I was shat on by a bird! Drove back ok. Called Pat Farrell but he said he couldn't make it today so I went to the Post Office and walk about and then to the mall again to finish off my shopping. Went for a short drive then back to the hotel by 4.30 pm.
Tuesday 24th February 2004
Met up with Pat Farrell in the airport cafe and drove over to the Connie (past a C121 which is rumoured to be destined for the Smithsonian in WA and which has not flown for years. Owned by Global Aeronautical Foundation Inc. of Camarillo CA N...58GF.). The Connie was sitting there surrounded by spare parts, spare engines, a couple of tail units sat on one of the two sea containers used by the group to store equipment and parts. She looked well and truly grounded as there were numerous parts removed and all four engine covers were open. Some paintwork had been removed in anticipation of a new colour scheme being applied. Pat showed me the dos and don'ts and then set me to work removing an outer engine panel to No.1. Within minutes I realised how sensible I had been in bringing along my gardening trousers and oldest, dirtiest t shirt as after 20 minutes of wrestling off a variety of hexagonal bolts and Philips screws which had held the panel down for decades. I was coated in a sticky, oily, sooty grime - but loving it!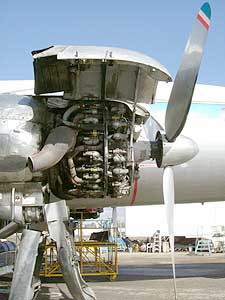 Soon I was joined b Jim Paules who had served for over 30 years at AA at their engine overhaul centre in Tulsa and later LAx so he knew a thing or two about the Wright. For a man of 80+ he was incredibly dextrous and full of strength and energy. After much cursing No 1's panel was removed for Jim to peer in and see what was occurring. No major issues. I assumed I had done a ok job as he set me off on the same exercise on No.2 only this had two panels, a weather panel and then the actual cowling. By now I knew what I was doing...sort of! and managed to remove the panels with the minimum of fuss.
After lunch we were joined by Daniel Cuvier who had to retire early from the USAF and is now working for the local Civil Air Patrol as well as at the CAF Museum. What looked on the face of it to be a five minute job took all afternoon as I bundled together a group of cables which involved me contorting myself into the smallest space deep in the guts of the No.1. Job completed we loosely put the panels back and exhaust parts in anticipation of three inches of rain forecast for the next day.
I rounded off the day with a look inside the Connie, which was still carrying a small CHS display as well as nine airline seats up front. Dan discussed the installation of 40 reconditioned seats in the plane for its epic journey to Switzerland and I satisfied one of those things you just have to do - I sat in the left hand seat. If I had died then I would have died a happy man. I went back to my hotel room aching all over and wondered how to get the grime out from under my fingernails.
Went to Civil Air Patrol with Dan and then went on the look at the air traffic control tower at Camarillo.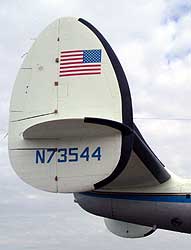 Wednesday 25th February
It was raining when I woke up so decided to drive to Chino. Wise move. About a two hour drive through LA in the rush hour was a baptism by fire which I survived, past such places as Ventura Boulevard, Sunset and Vine and Universal Studios and out the other side. Went to Planes of Fame which was more or less the same since I last visited in 1986 but more fences. Loads of P51s there A and B models. Asked John Hinton (Steve's brother) if I could look round N177L Tri Gear H250. The British accent won and soon I was in the cockpit and chatting about its use in the film "Almost Famous". Two other Lodestars there, the swastika one and another in RAF colour scheme, so got photos. Round to look at their jets which was odd as I'd seen some of aircraft at MASDC 22 years ago! Found the cafe I went to in 1986 (Flo's) and sat up on a stool and had eggs, bacon, hash browns and toast and coffee for $6! Nice folk in there and again my accent helped. Told them the place hadn't changed since '86. Some guy suggested I went to the Yanks Air Museum just down the road. The sun was out and it was pleasantly warm.
Down to Yanks to see some planes, their workshop was great with a bent Lockheed Electra Junior all polish and chrome. Again my accent won and I was allowed out on their ramp to photograph an old Rich International C46 and a B25 in Aussie markings. Some nice ex MASDC junk there too. Ontario CA looked nice on the way down so I decided to stop off first for petrol which was a drama so I acted all silly old Brit and people helped me out. I got far too much gas $20 got me a full tank ($2.07 per gallon =£1+!) Nice architecture in Ontario but I realised I was the only non-Hispanic in town so departed back the way I came. I tried to get off the freeway in search of malls a few times but no luck. Back to the hotel by 4pm with a lot of time to kill. It's pissing down and has been all day. Thank God I went to Chino!
Thursday 26 February 2004
Awful weather all night but woke up to sunshine but still cold so I went out and bought a sweatshirt ($10). Over to the Connie and waited for Jim who never turned up! But Dan came over and talked planes. He had some business over at CAF so we went there which was great. The CAF Hurricane had been shrink-wrapped and prop removed for shipping up to Canada. The man doing the job turned out to be Bruce Lockwood! He of Dago Red, Miss America etc. Had a long chat, what a nice guy. He'd done a TV ad recently for cig co in Europe in the P51. He said Michael O'Leary is coming over tomorrow. I bathed in Bruce Lockwood's reflected glow but he was so "normal'! Went in the CAF C131 N131W which was very neat. Got some more pics of everything parked around the CAF. They treated me to chilli for lunch, me Brucie and assorted CAF old timers! Started to turn a little cool so I was glad of my sweatshirt. Back with Dan to the Connie. No Jim so Dan got me climbing up a ladder cleaning paint off the wing tips. Back to the hotel to change, still very achy.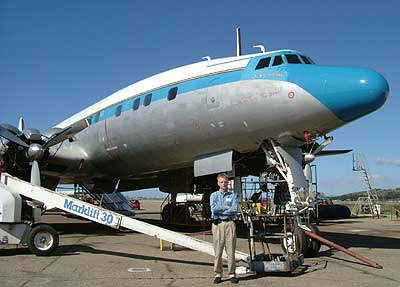 Friday 27th February 2004
Couldn't sleep again. Up breakfasted and then over to Starbucks for a good coffee. Went over to the airport and sat around the Connie for a while. No
activity but it was nice just sitting in the sun. Decided to check out the T28s. They had loads there. Got chatting with a mechanic who let me take a look see inside one - fantastic. Met the owner of C & J Aircraft, Chuck Smith, nice guy, He didn't seem to think the Connie would make it! He gave me a book about Trojans and said I could photograph what I liked. Did so! Then over to the CAF to see Bruce Lockwood finishing up the Hurricane no sign of Michael O'Leary so went back to the cafe for our eggs and bacon lunch sitting up at the counter. Saw Chuck in there. Dropped off the keys etc. for Pat Farrell. Had more time to kill so over to the CAF again to see them load up the Hurricane. I got some good pics and a guided tour this time!
Departure! Las Pasas to Mign the PCH Route 1 all the way to LAX, a beautiful drive. Far better than 101/405. One hold up where they were doing some filming but got to Alamo by 4.30pm. Loads of time to kill at LAX which went quickly. I hour late leaving. World Traveller Plus was fine apart from the Daily Mail. Slept ok on the plane. Met by my lovely wife and baby at LHR (Mary typed this for me as you can see). Cold in the UK.
Mike Zoeller

Previous Features:
To save your poor machine having to download all the images from the articles you've already read , these pages are now stored separately. Click below to recall them...
1. Le Mans Diary 2000 Five Go Mad at La Sarthe
2. Gentlemen and Cads The Terrible Turbo versus the Sublime Supercharger.
3. Hidden Brooklands. Poking around in the undergrowth.
4. The Mysteries of the Lucas Wiring System Explained. Well, you've got to have a system....
5. The Petrol head's Pilgrimage. USA Road Trip summer 2001
6. Brazilian Car Stereo. Choose your weapons.- Bob Marley at 50 Paces.
7. Restoring a Constellation. Never mind cars, Mike rebuilds airliners. - (admittedly not single-handed.)
8. Allan Winn - Breathing Life into Brooklands. Eoin Young interviews a fellow Kiwi
9. Son Of Mindless. The legends are true! A 4WD monster lurking in the Fens
10. Brooklands Double Twelve 2008. Event of the year.- Or how to compete against your own car..
11. Farewell to the QE2. Last voyage of a great liner