Brazilian Car Stereo.
In and around Salvador at Christmas I witnessed several "noise"competitions. Non descript Car A would nonchalantly park up next to the beach. The boot lid is opened to reveal a custom made speaker box filling the luggage space complete with 12+ inch woofers. The guy then opens up a side door and brings out a PA system on a lead and props it up on the sea wall. All ears in the vicinity and beyond are then assailed by Bob Marley. Car B pulls up 20 yards away, opens up his boot lid etc etc...... you get the idea.......

Outside Salvador I noticed the ultimate car accessory... the ON car stereo (see photo ). Thankfully the machine was in a dormant state when I happened by. As well as having the dubious advantage of allowing music to be played whilst in motion it also frees up boot space for transporting your extended family when necessary.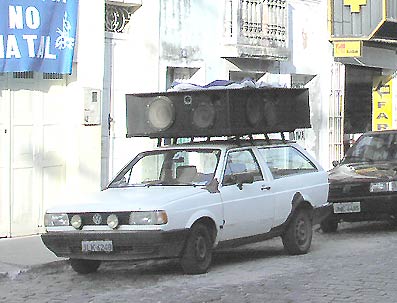 Andrew Knowles.
NB: If you like hilariously-modified cars then have a look at www.stupidnorthernmonkey.co.uk for pages and pages of the things. All the daft exhausts and plywood rear wings shown on BBC's "Top Gear" seem to have been stolen from here. It's good fun ,although the tone of mockery gets a bit tiresome after a while.


Other Features:
1. Le Mans Diary 2000 Five Go Mad at La Sarthe
2. Gentlemen and Cads The Terrible Turbo versus the Sublime Supercharger.
3. Hidden Brooklands. Poking around in the undergrowth.
4. The Mysteries of the Lucas Wiring System Explained. Well, you've got to have a system....
5. The Petrol head's Pilgrimage. USA Road Trip summer 2001
6. Brazilian Car Stereo. Choose your weapons.- Bob Marley at 50 Paces.
7. Restoring a Constellation. Never mind cars, Mike rebuilds airliners. - (admittedly not single-handed.)
8. Allan Winn - Breathing Life into Brooklands. Eoin Young interviews a fellow Kiwi
9. Son Of Mindless. The legends are true! A 4WD monster lurking in the Fens

10. Brooklands Double Twelve 2008. Event of the year.- Or how to compete against your own car..
11. Farewell to the QE2. Last voyage of a great liner