The Petrol head's Pilgrimage. - USA Road Trip summer 2001

I suppose you're wondering why I've asked you all here... Well, All right chaps, here's the plan: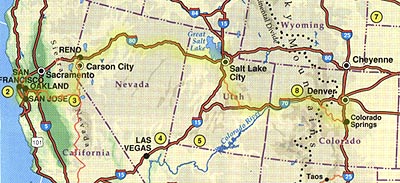 We fly to Denver, hire a car and drive it west across the US to San Francisco. The 2000 mile route will cover four states and a multitude of different terrain. We will have no fixed itinerary but will travel via motorsport holy places of Pike's Peak, Bonneville and Laguna Seca. There will be wild landscapes, fast cars and much weirdness. That is all. Thank you Gentlemen...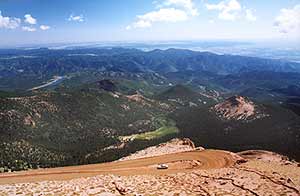 Armed with our spiffy new Chrysler Sebring convertible we headed for Colorado Springs, close to the legendary Pike's Peak. "America's Mountain" is a 14,100 foot National Park of incredible natural beauty. It is also as any motorsport enthusiast will tell you, home of the ultimate hillclimb.
A 20 mile dirt road snakes its way up and around the mountain, climbing to the summit which is above the tree line. There are no barriers at the sides and the drops are frequently sheer. The altitude (and the excitement ) make you short of breath. We were up here not simply to see the view but because we were going to CYCLE down it. Yes, cycle- as in pedals and no engine and skinny tyres and useless cyclist's helmets and tiny rubber brakes. What the hell is going on? It's all Dob's idea. Keen cyclist that he is, he jumped at this and persuaded us to come too. Having seen the frankly terrifying road on the minibus trip up we were more than a little apprehensive but our oxygen starved brains don't let us think about it too much.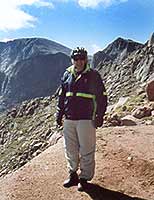 The first mile was pretty fraught until we got the hang of these velocipede things on a loose surface (even my 1946 Excelsior has better brakes than this!) but pretty soon we got into the swing of it and fear turned to exhilaration.
It's COLD up there. bright, crisp and so clear you can see forever. We made frequent stops to catch our breath and take photos. the view changes at every bend and each new stretch of road becomes a whole new challenge. I started relishing the steep bits and going for racing lines to pass people on bends! As we descended, we shed layers of clothing as the morning sun is strong in the clear air. by the bottom we were in T-shirts and the tourist cars were queuing to go up the toll road. We saw only a handful of other cars on our way down and the light and weather were perfect. This is why we had to start at 6.45 am.
The hillclimb is only one week of the year and apart from a couple of old race cars at the summit there is little reference to it. The vast majority of people come for the breathtaking (literally) natural beauty and the wildlife. It is such an unspoiled place that allowing racing cars to charge up it almost seems sacrilege. However a few days scaring the goats and marmots a year is a small price to pay for such an incredible event. If you get the chance, have a look at a short film called "Climbdance" which is a beautiful, wordless depiction of a run by Ari Vatanen in a works Peugeot for a real flavour of what Pike's Peak is all about.
After some wonderful serpentine roads through the Rockies and the majestically bleak rock formations and desert roads of Utah we headed up to Salt Lake City. Just to the north is Hill Air Force Base whose free museum is full of wonderful machinery, culminating in the bizarre, fabulous and slightly frightening Blackbird spy plane. Capable of over 2000 mph this, to any child of the 'seventies' like me was and still is the ultimate aircraft. I never thought I'd actually see one though.
Fascinating though Hill AFB is, I was now itching to get on the road again. The reason is we were very, very close to the Great Salt Lake and, by extension the salt flats at Bonneville. In a bookshop I asked for the US Geological Survey (equivalent to the UK Ordnance Survey) map of the Bonneville area. the chap's reaction was "why? there's nothing there!" Exactly...
After a stop at Saltair, a strange almost abandoned ex resort hotel at the edge of the Salt Lake we set off across I-80. This road is almost a perfectly horizontal line on the map, running due West out towards Nevada. after 100 miles or so of this we got our first sight of the salt; a shimmering white expanse to the right with rocky brown mountains in the distance.
We saw 'floating Island"- a mountain in the middle of the flats which has its own permanent heat haze mirage around it which makes it appear to float like Gulliver's Laputa above its own reflection. Magritte and Salvador Dali would have loved it and so do I.
There's a small rest stop off the interstate with a viewing point and an information board which tells the visitor that this is where the speed trials are held. We know; -we could see them..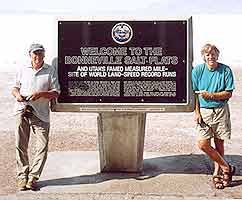 In the extreme distance we could make out a collection of black dots which Tony's binoculars revealed to be the trailers, RVs and cars of the paddock area. Suddenly anther speck appeared from the left and streaked incredibly quickly across the whiteness to disappear into the haze. They were running!
Back in the car and off to the turnoff known simply as "the road". It is the only one of any kind leading onto the salt. It runs due north for a couple of miles, then turns exactly 90 degrees to the right and runs for six more miles. On the map, it looks exactly like an Allen key.
At the end, sitting in deckchairs enjoying the early evening sunshine were a uniformed security guy and a couple of very relaxed looking officials, playing with a tiny dog. It is amazingly quiet. We bought a couple of programmes from them (there are no entry tickets or passes) chatted briefly and they waved us on.
Tony's been driving but now I have to. This is important. I've come several thousand miles to do this - it really is almost a pilgrimage, to drive onto the great Salt Flats of Bonneville, where so many of my heroes have been - this is a moment to savour.
Driving on the salt has to be experienced. It is almost as smooth as a good motorway but it looks and sounds like snow. The grip is considerably better but nowhere near up to tarmac levels and one has to accelerate gently and use the steering very smoothly. The sensation of speed is very strange, as your eyes tell you you are hardly moving, there being no reference points to gauge from. However the noise of the wind, the engine, and above all the swishing of the tyres on the salt conspire to make it seem much faster. It is a surreal experience and highly addictive.

After a look round the paddock area and watching a few runs, proceedings were halted for the day. We found our Motel in Wendover, the town on the State border 8 miles or so away and returned the next day.
Breakfast at Bonneville has to be officially one of the Great Motor Racing Culinary Experiences. Pancakes, maple syrup and coffee never tasted so good as they do in the crystal clear, still air on the salt flats early in the morning. The potential record runners are first in line for the start at 7 am and we watched them going down to the start line as we ate. The paddock area is situated roughly opposite the first timed quarter mile of the course so they have a drive or tow of several miles to get down to the line. The incredible beauty of the place plus the silence and, of course the undoubted danger makes everyone behave in a quiet, almost slow way as if there is a kind of reverence for the whole thing. I must confess I have several moments when I felt quite overcome by the experience - a strange combination of excitement and wonder. Superlatives are over used, particularly in this country where even a sandwich will be described as "awesome" but this place is truly awe inspiring. The cars on the long course disappear due to the curvature of the earth. The mountains with their evocative names, Campbell, Cobb and Jenkins seem at once to be close enough to touch and infinitely far away. There is no animal life or vegetation at all.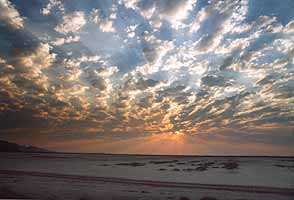 The Doppler effect (the change in the engine note as the cars pass) plus the laconic voices of the timing stewards on the radio are exactly as they are on the films. We missed seeing Don Vesco's run earlier in the week which topped 400 mph but we were hopeful of seeing the other great salt flat legend, Al Teague do a run. Al has been doing this for 40 years and his ancient pit equipment shows this. He and his team run the fastest piston engined vehicle in the world, with an FIA record of a shade over 409 mph, yet he has time to chat and socialise with everyone. This is not Formula One with passes and barriers, you can just walk up to the drivers and say hello.
The Teague streamliner had been reassembled since yesterday when it ate its clutch. Filled up with an eye-watering brew of Nitro fuel it was towed down to the start line miles away in the blazing whiteness. No need to ask when it is his run. the paddock empties as everyone comes out to watch. the black pencil shaped car appeared out of the heat haze and flashed past the timing station, but with a change in the the engine note, followed by the appearance of the parachutes . The run had been aborted, to a general collective groan. During the day we do saw another streamliner make a run of around 386 mph, which is truly strange- at those speeds you literally don't believe your eyes!
We also saw the incredible diesel truck of Carl Heap, this enormous shimmering green behemoth is the size of a double garage and leaves a terrifying trail of black smoke behind it.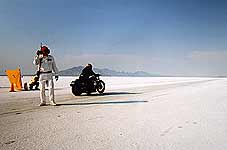 We watched 'thirties hod rods ("Deuce Coupes"), saloon cars, bikes old and new, plus the incredible streamliners making runs all day long. Things quieten down in the heat of midday but the racing continues into the evening. We watched the last run of the day, and as the shadows lengthened we took our pictures at the start line, then drove back up to the paddock area as most people were leaving. Sitting watching the sun set we ate our supper picnic. The tomatoes didn't taste of much so we salted them from the ground!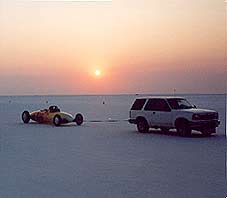 After chatting to a few late- working teams we met Dan Warner. An ebullient and friendly guy, He is in charge of the paddock area and is one of the organising committee. As it got dark we gave him a lift back into Wendover. Driving across the great expanse of salt, hood down (it was still 85 f ) with nothing but stars above us and not another vehicle in sight.
"Isn't this the best?" Dan says. when we agree he says "try it with the headlights off!"
OK, I can do that.... 90 mph in the pitch dark, only the lights of Wendover , several miles away visible to aim at.... just breathtaking!
We did one last morning on the salt, to watch some new found friends we'd helped go for a record run then reluctantly head onwards, away from the strangest, most fabulous motorsport venue of them all. one thing is certain. I will be back...
Wendover is right on the state line. On the Utah side things are pretty basic and run down as it still really only owes its existence to the nearby Air Force base. However, once you cross into Nevada it is a boom town- you can't miss the state line as it has the world' largest (official!) moving neon cowboy figure waving at you. West Wendover seems to consist of nothing but casinos, but we were soon through it and out into the desert again.
Some people describe these long stretches of highway as incredibly dull. Mile upon mile of emptiness surrounding the dead straight road certainly sounds tedious but I'm never bored- I just love the sensation of travelling- of moving, preferably at speed across the earth. There are hovering buzzards, strange abandoned shacks and workings for mining goodness knows what from the dusty outcroppings of rock in the endless sagebrush. Incredible goods trains, several miles long run alongside the road, and we saw the dust of a convoy of trucks several miles away as they charged along a dirt road to join the main highway. Tony's playing with the cruise control and Dob is happy waving his bare feet at the passing crows..
We made a stop the National Motor Museum in Reno, which, a bit like Beaulieu is an ex- private museum which has been donated to the country and 'nationalised'. Originally the Harrah Collection, there are hundreds of veteran and vintage models, including the most bizarre copper plated vintage Rolls-Royce and the Thomas Flyer, the winner of the original round the world race in 1908. There are some incredible George Barris "Kustom Kars" and some truly mouth watering racers. One of the world's strangest pieces of coachbuilding, the Phantom Corsair was in the maintenance shop, presumably being fettled for its customary outing to Pebble Beach.
In a hall full of wonderful machinery I was so busy looking at the race cars I don't even notice the 30 foot plus long red shape at the far end. When I did though I was all over excited again; this is Nathan Ostich's "Flying Caduceus" LSR car, and the first pure jet propelled machine to take to the salt. Although never a record breaker, this is a fantastically important and historic car and I didn't even know it still existed! Rather hemmed in by everything else (they operate the Haynes museum "squeeze them all in somehow" policy) this great red projectile, with its huge exposed wheels is worth coming to see on its own, as far as I'm concerned. I recommend the Reno museum very highly. They have a hell of a collection and like most US museums they actively encourage you to take photos of the exhibits.
After some more wild desert roads we came down an incredible sweeping set of curves (confirming my view that the Sebring oversteers when pushed a bit!) and cross into California.
We spent the night in a wonderfully quirky wooden hotel in Lee Vining, which is close to Mono Lake. Photographing there early the following morning there is the closest to absolute silence we had experienced anywhere so far. A beautiful, magical place.
Onwards to Yosemite National Park, which is so dramatic and full of natural wonders that to be honest you start to suffer from 'scenery overload'. A single road twists and bucks through the valley and around every corner there is a bigger mountain or a more dramatic view. Loads of tourists of course, but you can't really grumble. Everyone should share in a place like this.
Our next destination was Monterey and Laguna Seca Raceway. The historic races are the US version of Goodwood, Coys etc. and the array of machinery is fabulous. Be warned though; When we blanched at the $45 Sunday ticket prices, we were told that it was $100 for Saturday!
The racing is a bit "after you, Claude"- any European style driving such as overtaking through bends is frowned upon (Stirling Moss had the stewards after him for this a few years ago!) but there are enough notable exceptions. In the first sports car race, an Aston Martin had a wonderful lap- after- lap scrap with a Ferrari, eventually getting by and diving past the leading Corvette on the last lap. The crowd were on their feet, especially the Brits...
The circuit is basically on the side of a hill. The track twists and turns at the foot before climbing to the top, where the cars turn left then sharp right as the ground falls away. This is the famous "Corkscrew" where on the first lap the cars come streaming through as if they have been tipped out of a box. Sitting under the trees watching glorious Ferraris, Lotuses and Jaguars howl through this terrifying section is an unforgettable experience.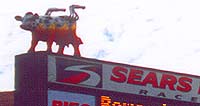 After a couple of days in San Francisco, where it took a while to get used to cities again, we headed out to Napa Valley for the day with the intention of seeing some wineries. However, when you see a cow with a V8 exhaust system on a sign you have to investigate..
We had stumbled on Sears Point Raceway and the gate is open so we pop in for a "quick look" which ends up taking most of the day.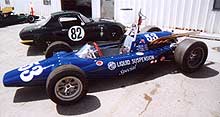 They were practising and testing in various classes so we watched for a bit and then strolled around the paddock. In one of the garages is the Huffaker speed shop. Parked outside was Kjell Qvale's MG Liquid Suspension Special Indy car and inside was a very, very trick Midget. It has all sorts of beautifully executed suspension and engine mods on it, plus the rear bulkhead has been moved back to accommodate a tall driver. I know how he feels! When the owner, Joe Huffaker appeared, far from throwing out the two potential spies who have been crawling under his baby he was happy to chat. Like me he is well over 6 feet tall, and like me he persists in driving Midgets despite the innate ridiculousness of the idea. There is a huge amount of very expensive development work in this car and it shows! Other projects Huffakers are currently doing involve a spaceframe Mini racer and the full restoration of a 'sixties Indy car. Great stuff. There is also a very well stocked racing memorabilia shop, with rare books, signed helmets etc. and some rather familiar photographs from Graeme's Motor Racing Tradition company and made by yours truly in my darkroom! While not as dramatic as Laguna Seca, Sears Point is a twisty, exciting track and well worth checking out.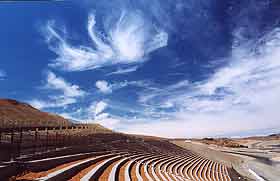 After a couple more days driving around (or rather up and down) San Francisco, humming the theme from "Bullitt" and generally having a good time we handed the car back to the rental company at the airport. We covered 2,250 miles in three weeks, Met loads of great people, saw more Americana than I would have believed possible and experienced some of the most incredible places on Earth.
We had only the vaguest itinerary, needing to be at Bonneville, Laguna Seca and San Francisco by set dates, and adjusted our route and timescales as we went along. I believe this is the best way to do things as it makes for a relaxed trip and you have time for detours whenever you feel like it. Many of the best places we found were unplanned, and we had time to talk to people everywhere.
I should add that the choice of good travelling companions is also important. If you are lucky enough to have with you a couple of entertaining, laid back, gentlemen and all round good eggs like Dob and Tony then you will have a wonderful time.
If you have been talking about doing a 'Great Road Trip' for a while, I urge you to stop talking about it , Just book the tickets and GO - wherever it is!
Peter Renn.
Other Features:
1. Le Mans Diary 2000 Five Go Mad at La Sarthe
2. Gentlemen and Cads The Terrible Turbo versus the Sublime Supercharger.
3. Hidden Brooklands. Poking around in the undergrowth.
4. The Mysteries of the Lucas Wiring System Explained. Well, you've got to have a system....
5. The Petrol head's Pilgrimage. USA Road Trip summer 2001
6. Brazilian Car Stereo. Choose your weapons.- Bob Marley at 50 Paces.
7. Restoring a Constellation. Never mind cars, Mike rebuilds airliners. - (admittedly not single-handed.)
8. Allan Winn - Breathing Life into Brooklands. Eoin Young interviews a fellow Kiwi
9. Son Of Mindless. The legends are true! A 4WD monster lurking in the Fens
10. Brooklands Double Twelve 2008. Event of the year.- Or how to compete against your own car..
11. Farewell to the QE2. Last voyage of a great liner