This is where you get to see the projects and semi-mythical vehicles you've heard tell about, sometimes for years without ever seeing the light of day, let alone an MOT station. The running vehicles are here as well but not everyone has seen everything. I'll show you mine if you show me yours...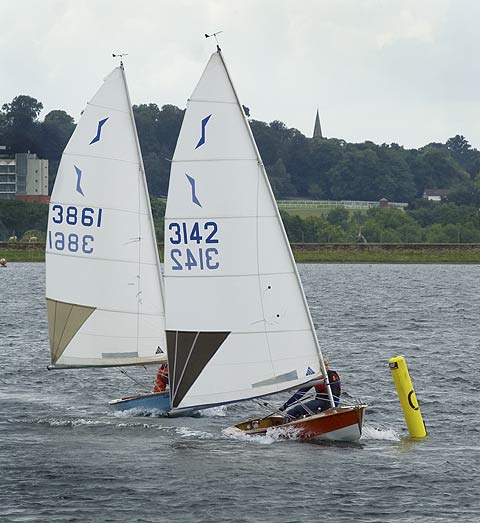 One from the virtual Boatyard: Peter's National Solo class dinghy. All wood hull (of course!) and a better boat than its helm deserves! Leading another competitorn (albeit temporarily) in the IBRSC Solo Open in 2011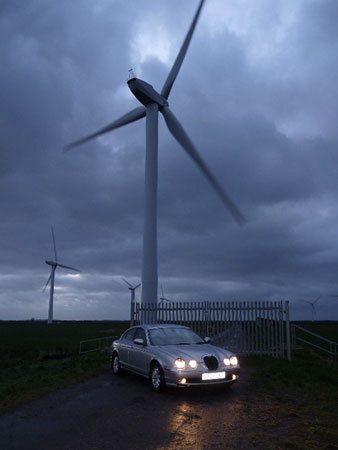 'Jaguar Disease' claims another victim; this time it's Cath who's gone for a 2003 S-type- and very photogenic it is too..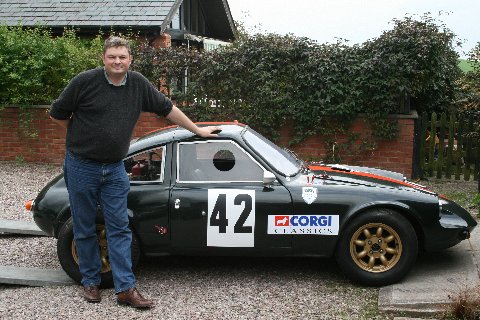 Guy with his "GT38" - the original prototype Deep Sanderson 301 - as raced Le Mans 1963 - leader of Index upon disqualification at noon Sunday. and 1964 into sand during practice and non-starter!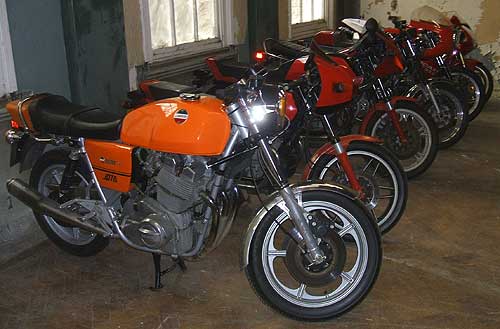 Rob's been buying bikes a bit recently.. L-R:
1979 Laverda Jota 180degree crank (yes it makes a difference)
1985 Moto-Guzzi V35 Imola MK II
1982 Moto-Guzzi Le Mans III
1980 Benelli 750 Sei
1977 Ducati 900ss
1997 Ducati 916 SPS (No.316 limited Edition)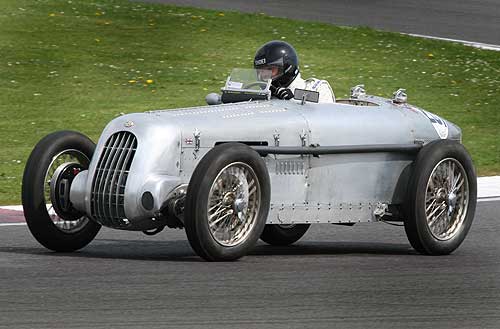 1934 MG NA Magnette single seat special (the Wallinger special if you like or the Magnetta on account of it having a front that looks like the Alfetta), it has a 1271cc 6-cylinder engine with a Volumex supercharger driven off the crankshaft. It runs either petrol, 60/30/10 Methanol/Avgas/Acetone mixture (as run by MG in period) or straight Methanol, the reason we can run different fuels is that John had 3 separate magnetos made with different timing curves so that if you just wanted to run the car for testing you simply put the petrol needle and mag in and off you jolly went, however for racing I run either one of 2 mags which have a fast advance for longer circuits or a slower advance for shorter courses so that it gives you a bit more torque out of the twisties.

It is made mostly out of aluminium to designs done entirely by John and we have kept to 19" wheels for authenticity. However I have a set of 16" wheels which are very wide for hillclimbing (untried as yet).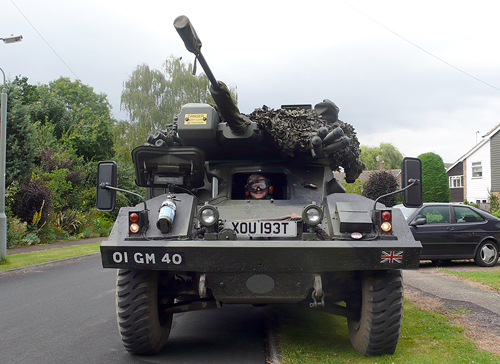 John's latest.. A Fox armoured car. About 6.5 tons, Largely aluminium armour, Crew of three, Powered by a 4.2 litre Jaguar engine and fully road legal. The effect on people in city centre traffic queues is great!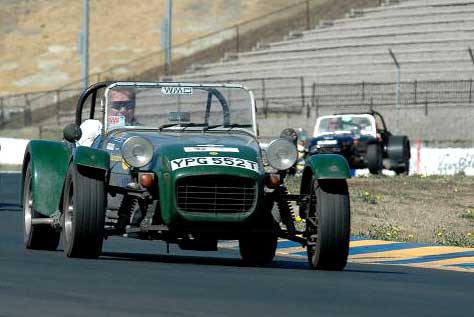 Trevor piloting his Robin Hood Seven around Sears Point (Infineon Raceway) in California.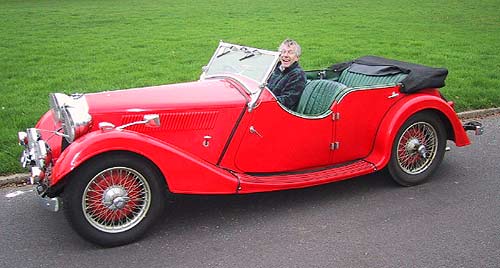 The latest addition to the strength is Dob's Riley 9 Lynx. A fine and splendid thing, finally found after over a year's searching. It's hardly surprising he looks so chuffed!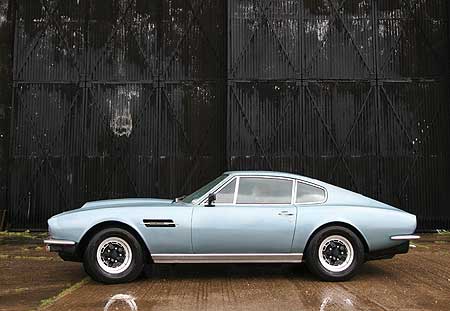 The new Blue Meanie. 1976 Aston Martin V8. 5.3 litre all-aluminium four-cam engine, (tuned to special spec for the original owner, A-M director Alan Curtis), manual gearbox and various other non-standard goodies. A brute in a Savile Row suit as someone once called it. Has the most wonderful effect on little boys everywhere - especially the one in the driving seat. :-) P.R.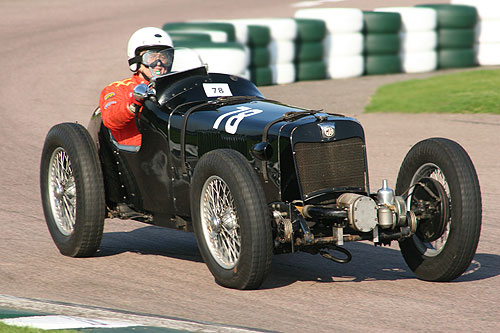 Robin's supercharged Magnette at the 2007 VSCC Goodwood Sprint.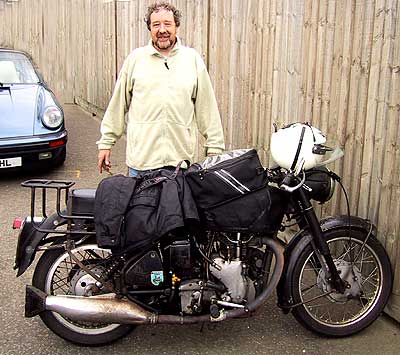 Solo Nimble Trundler. - Mike's well-used but mechanically perfect Velocette. - Daily transport as he doesn't own a car...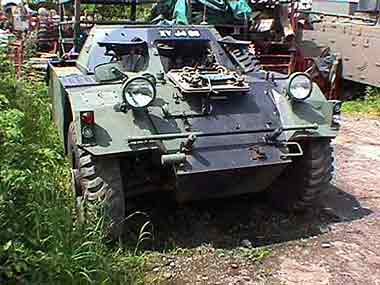 John is Secretary of the Military Vehicle Section - which has only one member so far (him) but it does boast one Forward Control Land Rover, One Morrris C8 Army lorry and THREE Ferret Armoured cars.- This is the Daimler Ferret Mk1/1. Although not a true Whizzer on the race track they do go as fast (60mph) backwards as forwards, although the message in the mirror of one of the photos on the web site may be amended in this context to read "those behind are about to be significantly restyled into component parts" given that rearward visibility is limited to the wing mirrors only.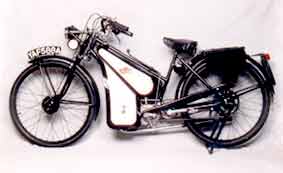 This is my 1946 Excelsior Autobyk . 98cc of raw, throbbing horsepower plus the fact that this is the luxurious 2- speed model mean that I can overtake pizza delivery mopeds (just about...) My second favourite machine after the MG. Currently OK and running- I'd be using it if it wasn't buried at the back of the garage. Rob's bought one as a restoration project .- realised how cool I looked on mine so just had to have one I suppose...PR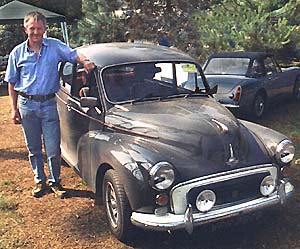 Phil James with Peg. Owned for over 20 years and continually modified, Peg is just our sort of whizzer: Tuned Midget engine, disc brakes, trick suspension etc. etc.
So if you get your doors blown off by a Morris Minor shaped blur, now you know who it was!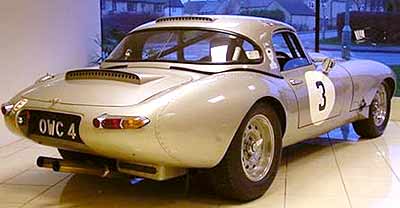 Mike Youles' latest racer: Lightweight E-type with all the good bits on. It looks like being an entertaining season.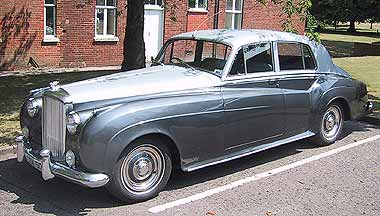 Rob's Bentley S2. A lovely old girl in need of just a little TLC but a truly fabulous motor car.
Currently off the road at present (sounds familiar!) for a bit of an engine overhaul.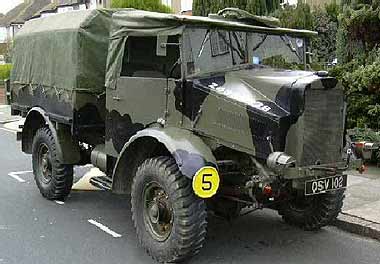 Morris Commercial C8 15cwt truck also owned by John. Zero creature comforts, Non synchro gearbox and very limited visibility makes driving this a character building experience. - or is it just that the rest of us are soft, road car driving wusses?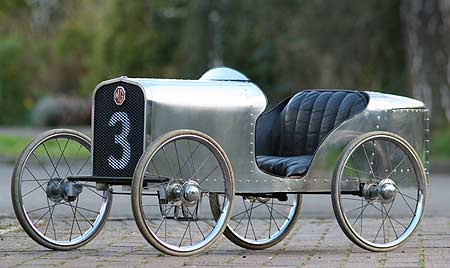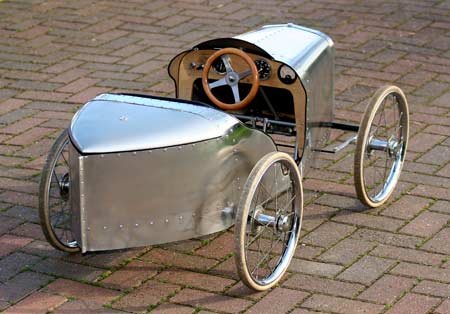 Emily was 3 in March 2005 so it was time she was initiated in The Way Of The Whizzer. To that end, her Wicked Uncle Peter has built
a true vintage style pedal car. - well pedals to start with at least. Provisions have been made for more serious motive power at a later date!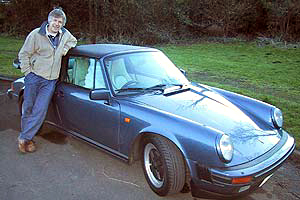 The Delinquent's delight. Porsche 911 3.2 Carrera is the Dobmobile replacing the Quattro. An astonishingly capable device and seriously quick. Currently for sale.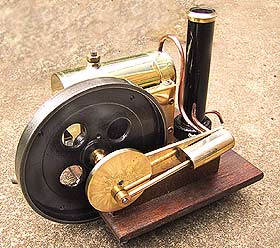 First item in the Steam section, This is a working model stationary engine made from a kit and embellished with flywheel, chimney etc.
This was an enormous amount of fun to build, and even more to play with.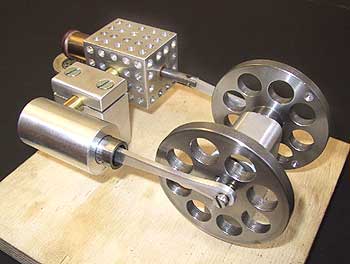 I think I'm getting too interested in these! This is a Stirling engine or hot air motor. About 5 inches long it runs for 25 minutes(!) on about a thimbleful of meths. The principle is hard to follow completely but essentially it has a closed system full of air and two pistons. The far one moves the air between the heated end with the copper cap and the cooler end with the drilled aluminium radiator block. When the air is hot it expands pushing the near
piston out, when it is cooled, it contracts causing the piston to return. It's nearly silent in operation and is officially the Least Powerful Engine here.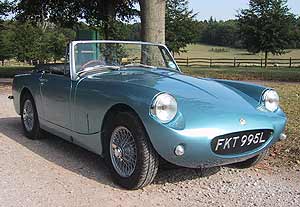 The Ashley Bonneville Midget.- Back on the road after just over a year's body restoration, then another three months last winter on the engine. It is now supercharged and virtually (!) finished - I am driving it at every opportunity and it was definitely worth all the work!
The bonnet is an original period Ashley one of the type fitted to various road and competition cars including the 1961 Ecurie Ecosse team's Le Mans entry (coool!). It weighs next to nothing and I love it! I've also discovered that Speedwell tuning made a small run of cars, with Shorrock superchargers and painted metallic Ice Blue called 'Bonneville Sprites' so that is what I must be building then. I had wondered what to call it..
Wherever I go it seems people want to see under the bonnet, so this car now has its own page. Click here for more...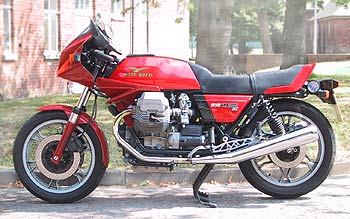 Rob's Moto Guzzi Le Mans. Nice looking thing even to the non- bike people. - To those who do know about these things it is a Proper Motorcycle and a joy forever.
THUBathubathubathubathubathuba....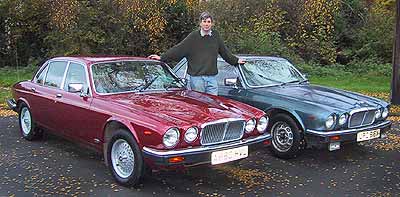 "Two Jags" Renn with another aquisition. The red (sorry, "cranberry" car is a 1983 Series 3 XJ6 and is just loveliness on wheels. 4.2 fuel injected, leather and wood everywhere plus very low mileage as it spent some while years ago in an HM Customs impound warehouse as it was discovered full of drugs.- (I wonder if that is what is blocking the heater fan?) Sadly the old blue monster has now gone, but it was a 1981 model and like the newer one it was comfy and fast. They can be hurled about at improbable speeds provided you respect the fact that they weigh the best part of 2 tons. If you've never driven an XJ6, you must try it! but be warned, they are addictive. To run a V12 you need bottomless pockets, for both the fuel and the speeding tickets...PR
(Yessssss.. I wrote the above and then went and bought an Aston Martin :-)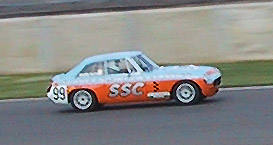 MGB GT race car run by Jeremy and Martin. 'SSC' in this case stands for Surrey Sports and Classics rather than any sound barrier breaking aspirations.- er.. that's right, isn't it chaps?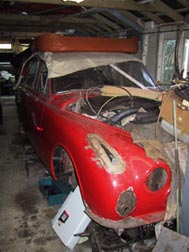 Jaguar Mk2. " I know it's under there.... somewhere! Dob's very wonderful restoration project lurks in the garage waiting for the day it can come out and bite people...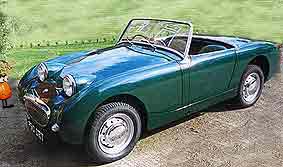 1959 Austin Healey 'Frogeye' Sprite Mk1. The Archetypal barn find. Restored over several years and now ever so shiny. All steel and absolutely original, (except for the slightly later gearbox as it gives a much better gearchange). For sale but expensive...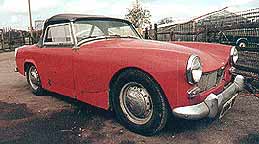 Yet another Midget. This is Bertie. Bertie has had a hard life and is more than a little frilly underneath. The paintwork is interesting in that it is held onto the bodywork with screws in places rather than the more conventional method. Currently off the road and dreaming of restoration and an MOT certificate which kind uncle Rob will give it one day. no, really...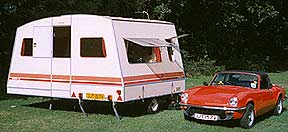 .


Caravans in the Splendid Whizzer Association? Good Grief! Well this one is truly splendid- Roger's Amazing Folding Caravan acually gets bigger than this with the awning attached, yet folds down into itself so it can be towed by the Spitfire. If you look closely at the number plate and reflectors on the caravan you can see how it folds up. A highly "des res", especially at Le Mans.
I'm sorry to say that Roger died suddenly on 15th November 2002. This is a terrible shock to all who knew him. One of the nicest people you could wish to meet; Le Mans won't ever be the same without him. All our condolences go to Tracey and Roger's family.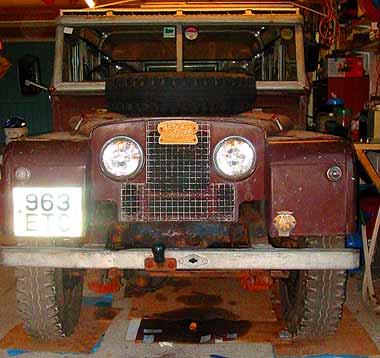 I am Roger Holmes' nephew Jonathan, I am featured already on the web site hanging out of the window of Roger's Spitfire!
A bit about our Land Rover: It's a 1958 series 1 107 inch station wagon. Only about 100 stil exist. It used 2 have a 2 litre petrol engine but Dad replaced that with a 2 and a quarter diesel. Not the fastest thing on the planet (top speed 65 down a hill with wind behind you) It was last on the road last year, awaiting a full restoration really because the chassis is suffering from a bad case of tin worm! The 48 year old wiring isnt that great either!! (but we might just keep patching it up!) Dad says he will never get round to restoring it! ( so it looks like it's down to me!) I really like the pic of the Spit and the caravan, I miss Roger and the car a lot. - from Jon Holmes (age 15)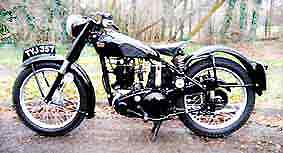 1952 BSA C11. Not particularly fast but does all the proper British bike things; gleams, has a thumping exhaust note and drips oil...PR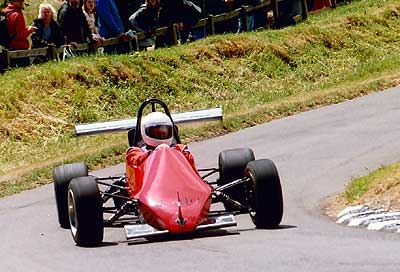 What do you mean 'what is it?' It is Tony's Martlet hillclimb car. Suzuki GSXR 600 'bike engine with very clever fuel injection. faster than a very fast thing and currently sweeping all before it in the championship in the hands of Adam Steel, Tony's son. This is Tony on his way to a personal best at Gurston. - I missed Adam's run - he was too darn quick! - He currently holds the outright record for 600cc cars at Prescott, Gurston and Shelsley.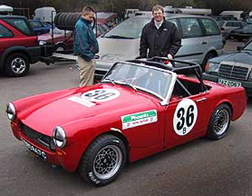 "Haha! I am the Toad, The Terror of the Highway!" Rob's race Midget at Brands Hatch.


HOME---EVENTS---GARAGE---L.S.R.---GALLERY---FEATURES---SPARES---LINKS---CONTACT