Magnolia Hammerite.
Some of you may be wondering about the line on the official letterhead (and indeed on tins in Halfords) describing our patron. Lady Magnolia Hammerite.

Magnolia Hammerite was born in 1899. The daughter of Hubert Trimite and Cordelia Du Lux, she was married to Sir Rufus "Red" Hammerite who disappeared on the fateful 1959 British expedition to find the Himalayan Foxglove.
She has two daughters, Violet and Rose Hammerite who achieved brief notoriety in the Castrol 'R' sniffing scandal of 1951. An illegitimate son, "Black Matt" Hammerite is said to be the result of an illicit affair in Africa in the 40's.

Magnolia was always an unusual girl. Thrown out of Roedean for attaching a Napier aero engine to her bicycle she found herself naturally gravitating to Brooklands, which was unfortunate as she was in a Tiger Moth at the time. Once extracted from the wreckage she became an enthusiastic car racer as it was as she put it "an absolute hoot and a chance to whup Barbara Cartland's sorry pink ass"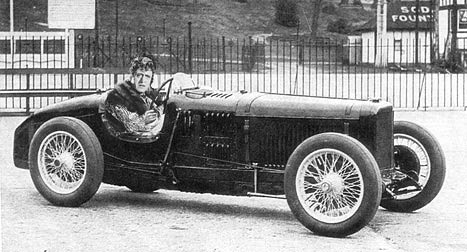 A long and chequered career followed. From being presented to the King (who gave her back as she didn't match the wallpaper) to a spell in a Turkish prison for doughnut running during the infamous Cinnamon Blockade, Magnolia's life had many highs and lows. An attempt on the land speed record sadly failed when her voluminous petticoats became caught by the airstream and acted as a drag 'chute.
From that day she was mostly seen wearing men's clothes. Luckily most of the men didn't seem to mind.
Magnolia was a popular and sociable woman and was a regular favourite of the Prince of Wales, although she did frequent other pubs too. Her social circle included anyone who was anyone and many more who weren't. She famously advised Sir Malcolm Campbell to name his series of blue racing cars "Turquoise Hedgehog" but when he had sobered up he decided on a much duller name.
She owned an unusual looking Dachshund, "Towser" who was her constant companion for many years. Although Towser's strange appearance was eventually explained by the fact that he was in fact a crocodile, Magnolia doted on him, feeding him chocolates and small boys. Many times he was to be seen under her chair in the bar, contentedly chewing someone while Magnolia had a refreshing pint or two of absinthe.
Always an enthusiastic motorist, Magnolia owned and crashed many famous and dangerous motorcycles, ornithopters and racing cars including the "Speed of Passed Wind" record breaker. Her autobiography "Where's the Gin?" is shortly to be published.
I am delighted to be able to announce that her Ladyship has graciously agreed to become the patron of the Splendid Whizzer Association despite the fact as she puts it "I'm afraid I can't pronounce it any time after luncsh, dear boy" Although presently unable to attend any events in person due to severe gout, she assures me that once the V8 is re installed in her bath chair she will be actively mobile once more..
If you have any more anecdotes from Magnolia's career, both she and I would be very interested to hear them..

Cath Roberts wrote: You did not however touch on Lady Mag's excellent reputation amongst her staff and servants as a fair and just employer. So highly was she regarded, that Louisa Brush (former lady's maid) honoured Lady Magnolia and the Hammerite family through the naming of her own son, Hammerite Brush (cleaner). Lady Magnolia personally believed that Louisa's son was the issue of an unfortunate liason with a visiting German dignitary Axle Stand, but Louisa never confirmed this. Clearly the social difficulties revealing her son's nationalistic heritage during the late forties prevented her. As "Herr Brush", Hammerite would have had problems in finding employment with the British upper classes.

P.R.